Crossing paths
This morning I happened to notice a new wi-fi signal in the park: "Odyssey". You may have noticed a link (left column of this blog) to a blog of the same name. Could it be?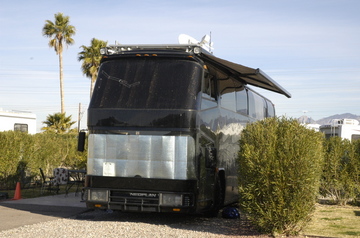 Yes! I took a look out my dinette window and there it was, 44,000 pounds of mammoth motorhome. What an opportunity! Blog meets blog. So of course I grabbed my camera and headed over to see Sean and Louise, who I had never met before.
I knocked on the door and high above my head, a window popped open and Sean's head appeared. It was a bit like talking to the Wizard of Oz ... me, standing below in the shadow of Odyssey and looking up to Sean as we chatted. Later, Louise's head popped into the window as well.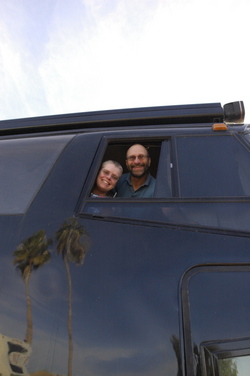 It's a shame we were both preparing to leave. I would have liked to have heard more about their travels in Mexico, although I've read the blog entries. We'll have to try to catch up again on the west coast this spring.
We have moved to our home for the next month, about ten miles east on I-10, still in Tucson. We have never booked a full month anywhere before, so it felt rather strange to set up here knowing we'd be so permanent. A month is nothing to an apartment dweller, but to us it feels almost like a commitment. What if we don't like the neighborhood? What if we get an itch to go somewhere else?
Fortunately, the new park is fine. It's situated out in the desert, with absolutely no neighbors except deer and jackrabbits. We can't hear any traffic except an occasional train a couple of miles away. There's free wi-fi and it actually works. And our site is pleasant enough, level gravel with nice views of the surrounding mountains and the desert.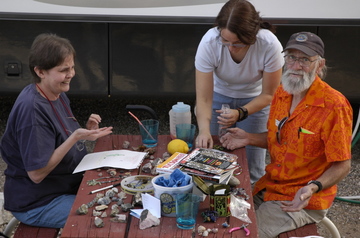 After we settled in we got a visit from Mike and Tracy, who are parked just a few miles up the road at a "55+" park. It's a bit more stuffy over there but Mike wanted to take some lapidary classes offered in the park. Our place is more relaxed. Eleanor and Emma pulled out all their rocks and suddenly the afternoon disappeared in a haze of mineral chat, until it was time for Emma's evening bike ride.
Don't worry about the blog getting dull while are here. We've got a ton of things to do: work, hiking trails, Saguaro National Park (right up the road), real estate hunting, bicycle paths, a trip to the Florida State Rally, and family day trips to places like Mt Lemmon, Catalina State Park, the Titan Missile Museum, Bisbee, Patagonia, etc. The blog will be busy.