Mexican insurance
I promised I would write about the preparations for Mexico, so here's an update. Joe and I have been going back and forth on the details as they turn up. The latest snag has been insurance -- it's expensive. US auto insurance is worthless in Mexico, and if you get in an accident, the Napoleonic code that Mexico uses considers you to be guilty until proven innocent.
What that means from a practical viewpoint is that a fender-bender is treated as a criminal offense, and so the parties involved will be "detained" in a prison cell until the authorities are assured that the responsible party can pay for the damages. So it becomes a matter of having good Mexican liability insurance, along with bail and legal services riders, to be sure you aren't the person left rotting in a cell at the end of the day.
Fortunately, there are dozens of websites that quote Mexican auto/RV insurance online. We've been comparing coverages and shopping prices for days. For visits of less than 30 days it's usually cheaper to buy a daily policy, and beyond that it's cheaper to buy the 6-month policy. For combined truck and trailer value of $60k, on a 15-day visit (for example), I'm seeing premiums of $377 to $700 -- quite an impact on the overall cost of a trip!
Of course, there are many variables that affect the price. Optional riders, medical payments levels, liability levels, and obscure details such as whether payouts are in pesos or dollars and where bodywork gets done. It's much more expensive to get a policy that allows you to get repair work done in the USA rather than Mexico. And some companies have a good reputation for easy customer service over the phone in Mexico, whereas others ...
So we're proceeding with caution. I'm reading threads on RV.net forums, visiting various insurance websites, reading policies (and wow is that tedious!), and comparing the experiences of people who have gone before us.
To further complicate things, we need to figure out our exact dates of entry/exit if we are going to buy a daily policy. We can buy extra days while we are in Mexico, but it would be a nuisance. So the decision to buy a 15-day policy at, say, $403, versus a 6-month policy for $560, has to be considered carefully. It might be better to buy a 6-month policy for the flexibility in dates, and to retain the option to go back into Baja later this spring if we feel like it.
I've also made a checklist of things we need to do in advance of crossing the border: buy a telephone card, collect our documents (passport, vehicle registrations, and in my case a notarized letter from myself affirming I'm authorized to drive the company vehicles into Mexico), sanitize the water tank, buy a phrasebook, etc. Really, there's not that much we need to do. I'm over-preparing this time because its our first trip.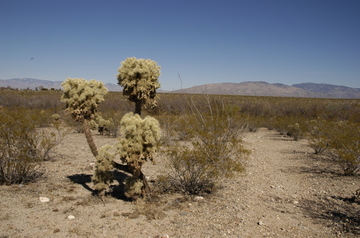 Today I took a short walk out into the desert for a lunch break. The area immediately around the campground isn't particularly interesting except for the birds, but I could see taking a mountain bike out for some real exploration. I spotted some cardinals in the brush, and there seem to be a lot of songbirds in one area. The desert floor here is mostly brush with cholla (CHOY-ya) cactus, but it varies a lot depending on whether you're on high ground or in a dry wash. The saguaro cactus (the ones with the "arms") start a few miles north of here. We'll see more of those when we go to Saguaro National Park.