Easter eggs
It's a real relief to have a Sunday with no pressure to go see houses ... and since it's Easter, we've got a few fun things to do.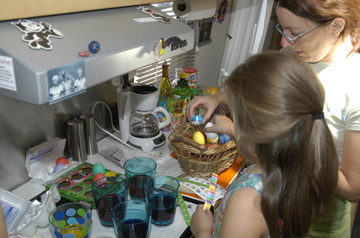 Yesterday, E&E did the egg coloring thing. We all love this ritual for some reason, maybe because it reminds us of happy Easters as children. (I personally love hard boiled eggs but I hardly ever eat them, so this may be my real motivation.)
We headed out to the Children's Museum today for an egg hunt, but it was a bit of a bust. Emma is the sort of child who tries to be polite and follow the rules, and often these habits do not serve her well when other children are involved. The museum staff tried to set up egg hunts in which all the children would be entitled to find two eggs in the courtyard, but a minute or two prior to each hunt's official start, unrestrained children would roam around and hoard all the eggs. Thus, dozens were disappointed, Emma included.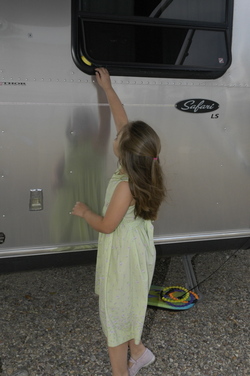 Good thing we made our own. It turns out that you can have a darned good egg hunt in and around an Airstream trailer. So good, in fact, that we took turns hiding the eggs and had three hunts. And then, we ate 'em ... with chocolates from the Easter Bunny for dessert.
The campground is clearing out. On April 1st we saw a minor exodus, and again today half a dozen rigs pulled out. It's another sign that the heat is coming. In Arizona, they say good parking spaces aren't determined by distance, but by shade. I'm beginning to see how true that is, since our Armada has enough glass to basically be a giant greenhouse.
But outside of the car, it hasn't actually been all that hot. It's true what they say about dry heat -- it's not nearly as bad as hot & humid. We have yet to turn on the air conditioner, even in the past few days when we've hit 92 degrees. I'd rather go for a swim in the pool anyway.
However, we have been obliged to turn on the new refrigerator fans that we had installed back at Roger Williams Airstream in January. On a 90+ degree day, if we don't run the fans to draw air through the refrigerator vent, our refrigerator warms up into the mid-40s and things spoil much too quickly. With the fans on, it rarely exceeds 39 degrees.
The difference is noticeable in the freezer, too. We forgot to turn on the fans one day and found the ice pops turning to slush. So the fans have already paid off. As it gets warmer, I expect they'll really get tested. In a month or two, we'll probably be enountering 100+ degrees several times as we travel through northern Arizona, Nevada, and Utah.