Found a house!
It looks like we will indeed be homeowners again. After about eight weeks of looking, the conclusion of the search happened remarkably quickly. Yesterday morning we got the usual daily email from our agent, showing properties newly on the market. He had only one house, and my initial inclination was to skip it because it was near an area we'd ruled out the day before.
But the listing looked good, and so we went over to see it, not expecting much. The house and the neighborhood surprised us -- in a good way -- and a few hours later we were writing up the offer ...
Apparently we encountered that most rare and magical type of seller: a motivated one. This afternoon, they accepted our offer, even though it was below the asking price and the house had undergone two price reductions already.
So now it's real. We are about to become homeowners again. It's not an amazing house by any stretch, but it's perfect for us. The kitchens, baths, and floors are all pretty dated (think 1970's), but structurally and functionally it's all in good shape. The neighborhood is surprisingly nice, dotted with palm trees and neat little ranches from 1967-1972. The house is nice and cool with burnt adobe block walls and a reflective roof, and it has a lovely view of the Santa Catalinas from the back yard.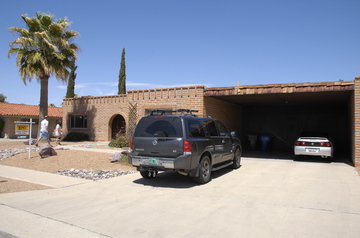 It also has something I never dared dream of. The previous owner owned an RV and so the house comes with a carport sized for tall vehicles like Airstreams. No silly HOA restrictions here. The carport also has sewer & water connections. By merely adding a 30-amp plug, we'll have a covered full hookup in our carport! Too cool.
Now I know a few of you are thinking, "Hey, I'd like to come to Tucson next winter with my Airstream." Well, as it turns out, we are most likely going to rent the house out for a while, so there won't be courtesy parking for a while -- and when there is, we may be using it ourselves!
See, we've decided we don't actually want to stop traveling for a while yet. Emma is on a waiting list for her school. While we are waiting we will keep home schooling and getting some more travel in. Soon enough she'll be locked into a school schedule, but until then we don't want to pass up any more opportunities. When the school calls, we'll come back here and live in the Airstream until the tenants' lease is up.
Having done this, we've stepped back into the world of traditional real estate. There will be many calls to make this week, paperwork, and decisions. Having lived in the Airstream all this time, it seems like far too much trouble to have a wheel-less house.
But ironically, having completed this task of finding a house means we will soon be free again. Once our pre-paid month at the campground is up and we've gotten all the inspections of the house done, we plan to hit the road for three weeks. We'll return for the closing and to get the house set up for rental, and then take off again, not to return until next fall at the earliest. It's nice to have a start on a home base, but we're not going to let it take over just yet.