Jackson Center entertainment
This has been the most entertaining day I've ever had in Jackson Center. Earlier today a fellow Airstream full-timer named Paul dropped by to say how much he liked reading Airstream Life, and to play us a song he wrote about going out on the road.
I made a video of it to try uploading it to YouTube, but so far have encountered a lot of problems. I'll have to get some experts on the job. Once we've got it successfully uploaded I'll post the address here.

Later in the afternoon we were pleasantly surprised to see Alex and Charon pull in beside us in their 1965 Safari. We seem to run into this pair every year somewhere, sometimes in Florida, often here in Jackson Center. They are professional carnies, doing their act of sword-swallowing and fire eating at festivals and events every summer and fall. We featured them in Airstream Life back in the Fall 2004 issue (that issue is sadly no longer available). They also do a bunch of podcasts, and have a blog.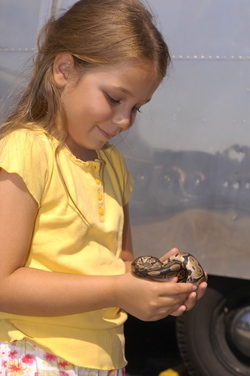 They've got a new pet, a ball python, and this immediately got Emma's attention. Now she wants one for a trailer pet. I'm personally not wild about the idea of harboring a snake that grows to four feet in length ...
This evening Alex and Charon felt the need to practice their fire eating. That was entertaining enough, but then after I stepped away for a moment I found out I had been volunteered to try it myself. Always game for an interesting new experience, I very carefully followed Alex's instructions (the key one being, "don't breathe in -- it will take you nine months to die") and managed to extinguish a small flame in my mouth. The only casualty was a slightly burned spot on my lower lip.
Because of the problems with the blog software and my general disgruntlement with MovableType (it can't handle podcast video, it isn't very well supported, it has random glitches), we will be switching this blog over to Wordpress software this week. This may result in the blog disappearing temporarily, or being stranger than usual this week. Bear with me ..