On the Texas Barbecue Trail
In my essays on Gather (see link to the left), I talk about how our form of travel allows us authentic and personal experiences that rarely happen when you're on a typical vacation. We were lucky to have one of those authentic experiences today, in Taylor, TX.
Taylor is a quiet place about 30 miles northeast of Austin. The land is flat and open out that way, covered with corn fields and Southern Pacific rail lines which run right through the centers of each town. It's far enough off the beaten path that you wouldn't expect to see many tourists there, but on weekends, the knowledgeable ones head to downtown Taylor to experience exceptional barbecue, in an area that is already known for great barbecue.
Shanta Kuhl, one of the local town boosters, invited us to drop in for lunch at Louie Mueller's, one of the two great barbecue spots in Taylor. So on our way north to Cleburne, we pulled the Airstream right up to the side of Louie's and stepped into one of the best culinary experiences we've had since we started traveling.
The first thing that struck me about Louie Mueller's was the character of the place. The décor is simple: square wooden tables sitting on a black wood plank floor in a high-ceilinged box of a room that looks like an old warehouse. There's a bit of neon and a corkboard covered with hundreds of old business cards stained brown with years of grease. An ancient jukebox sits in the corner. At 11:45, the parking lot is filled with pickup trucks and the tables are filled with men wearing baseball caps.
The back half of this large open space is filled with black barbecue equipment, looking like an arrangement of steam locomotives, and attended to by a small crew of confident-looking people who start their secret processes at 3 a.m. every day.
There's no table service. The menu is short and to the point, written on paper tacked to the wall: you can get barbecued this or that. I didn't see any salads or salmon fritters. When you line up at the kitchen counter with your tray, the friendly staff quickly tosses a thumb-sized bit of barbecue beef on the paper liner for you to sample while you're waiting.
Emma wanted ribs, so Eleanor ordered three ribs, expecting those skinny things you usually get at chain restaurants. The crew looked at Emma and explained that their ribs are BIG – about a pound of meat on each one. They look like they were taken from a brontosaurus. She got one and there was plenty for Eleanor and I to sample, with leftovers.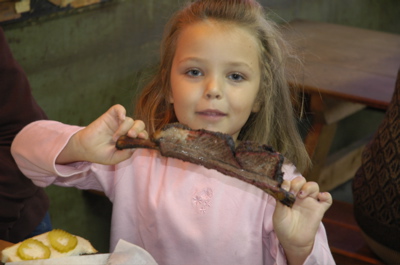 One thing you should know is that there is no "one" way to make barbecue. Every place is different, which is why sampling the different restaurants is so much fun. You never know exactly how it's going to taste, but you can be assured it will be darned good, especially out here in the midst of barbecue country. I could see spending a couple of weeks touring this area and dropping in on a different local barbecue spot every couple of days. If that interests you, check out the Texas BBQ Trail website.
Shanta also took us down to a hidden spot by the railroad tracks, called Taylor Cafe hides in one of the oldest buildings in Taylor, literally a corrugated tin shack that you would never think was a restaurant from the outside. You'd also never think it was the souce of one of the top 20 best dishes served in the USA, according to a New York food writer. Ah, but it is … and some fine food comes out of there.
Taylor Cafe has two entrances, from the days of segregation, one on either side of the building. Although it is obviously no longer segregated, people still tend to stick to one side or the other. The interior is reminiscent of a fishing shanty, with exposed plywood on the walls. A big central bar is where you order. You don't come here for the décor, you come because Vincel Mares has been making barbecue here for over fifty years. When he decides to make something special, like a batch of pork sausage, you'd better be in line the first day or two because after that it will be gone.
I shook his gnarled hand, obviously crippled with arthritis, and listened to his quiet voice as he smiled and talked about his food. It's his life. Every day he gets up at 3.am. to cook, and goes to bed late at night, getting only a few hours sleep before he starts over again. There are regulars in this place who come every day to eat his food.
Although we'd already had lunch, Vincel gave us a package of turkey sausage to take with us. It sits in our refrigerator now. Every time we open the refrigerator the wonderful smell is apparent – that sausage won't last long …
Taylor TX -- a worthwhile stop along I-35.