Hyde Park Memorial State Park, Santa FE NM
This park is way up above Santa Fe, which is itself a pretty high-altitude town. The park is at 8700 feet, nestled in a cleft between mountains and surrounded by evergreen trees. The entire park has hardly any level ground. The few RV sites that it has are oriented so you have to back into them, up a steep slope. We found that you only get one shot at it. Backing a trailer up a hill is hard work for the transmission. The approach to the campsites is so steep that if you don't get in your space the first time, you have to sit and wait for the transmission to cool off before trying again!
Now that we are parked, it's a beautiful and peaceful spot. But since Rich C and I both need to get to work, we can't stay here. (This working stuff is a nuisance.) Our cell phones report "NO SERVICE" and of course that means our mobile Internet doesn't work either.
Knowing that we would be offline for the day, we stopped in Santa Fe about seven miles from the campground at a convenient roadside spot. I got online and made a few phone calls, and just as we were getting ready to leave, a local Airstreamer stopped by, attracted by the colorful graphics all over our trailer. Her name was Mary Jane and she was amazed that she'd never heard of Airstream Life magazine. So we gave her a magazine and had a nice conversation, and she offered to give us tips on what to do in town. This is the type of local contact that is worth more than gold.
I am reminded that out west the climate is dictated by altitude rather than latitude. At 8700 feet in the campground it was gray, windy, and wet, so we went into town where it was clearing, much drier, and at least 10 degrees warmer.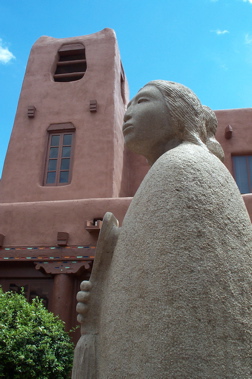 Santa Fe has a downtown that seems mostly composed of adobe buildings, but many of them are modern reproductions made of concrete. Still, it has a historic air and there is plenty to see. We just parked the car and walked the downtown for several hours, ducking into the various shops and markets. We finally got a southwestern-style rug for our Airstream, and I bought a leather hat which I plan to waterproof for rainy days. Emma likes it too.
As interesting as Santa Fe is, we are going to move on after just one night. We have only a week to get to Las Vegas and want to spend as much time in Zion National Park as we can, on the way. The state park, as pretty as it is, also lacks a few things besides being isolated from radio signals: the dump station is closed and sites don't have water. It's rather cold up here too. So basically we're paying $14 per night for a parking space with electric. I'd rather be boondocking in the hot desert and using our solar system instead.
This is where we are going to split from Rich C. He has a minor problem with his truck that he wants to get resolved, and needs to wait until Wednesday for a part to arrive. By then, we'll be 500 or more miles ahead of him, and he doesn't want to rush. So he's going to move to the KOA south of town, and we're making plans to meet again in northern California for a few weeks before heading to the International Rally in Oregon.
This posting is coming to you from a lonely pullout somewhere between Santa Fe and Albuquerque. Our solar panels are finally getting tested, since I am running the laptop and our Internet box. We're generating 11 amps at 11 a.m. local time in full sun, which is great. Our daily usage is about 20-30 amp hours, so with just a few hours of sun we can easily replenish what we need when boondocking. In the gray light of yesterday, we were generating 1-2 amps, which would still be enough to extend our batteries for several days. It's encouraging.