Petrified Forest National Park, AZ
Petrified Forest National Park is a lonely exit off I-40 in eastern Arizona. A single road about 25 miles long leads from the north entrance to the south. We came here expecting to see lots of petrified wood, but were surprised how much more there is to be found.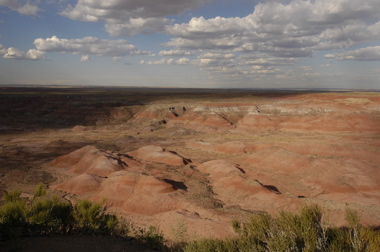 Right off the bat there are incredible views of badlands, and an historic Harvey House restaurant called the Painted Desert Inn. People used to get off the train about 20 miles south and travel by car to stay at this rustic adobe inn at the edge of the cliff overlooking the badlands.
Then we found a Native American pueblo dating from 600-800 years ago, with wonderful petroglyphs. While looking at those, a gorgeous milk snake came by (not venomous). We met a researcher in the parking lot who was studying snakes, so we took him over to the spot we last saw the snake. He already had a western diamondback rattlesnake in the car ...
A few miles further down, we finally began to see the remains of forests of large trees, fossilized and slowly emerging from the eroding cliffs. Emma spotted two jackrabbits, a hawk, a cottontail rabbit, and other creatures for her Junior Ranger project, to be turned in tomorrow.
We're boondocked just outside the park's south entrance tonight. We ran out of time this evening, so we'll head back about eight miles north to see the rest and do some hikes, before heading west to Sedona to meet up with Renee and Fred again.