Lucky break
Strange weather. Instead of getting colder and rainy, our weather actually improved, while Texas went into the deep freeze. Emma and I rode three laps around the lake here at Lincoln Parish Park (about 3 miles) under partly sunny skies and temperatures that eventually reached into the mid 70s.
Emma, ready for her ride
Eleanor took advantage of the opportunity to open the windows and vents, by cooking. She pulled out some ingredients and started a homemade soup in the crock pot.
Meanwhile, just a hundred miles to the west it was 30 degrees with freezing rain. I heard this from our friend Paul in Paradise TX:
It's still 28 out now. Close to 1/4" of ice on everything. I just finished filling the water tank on the International and going into town to top off the propane bottles. With the amount of ice they are forecasting, if the powerlines go down, we'll have a safe haven with utilities.
And from our friend John in Austin, TX:
Sit tight! We have had over 6" of rain in the last 24 hours. All kinds of reports of water rescues and road closings on TV. Many homes in south Austin are inundated; just saw a photo on TV of water up to a chair seat in a south Austin home. All indications are for an ice storm tomorrow and 3 to 4 sub-freezing nights with sporadic rain. They are even forecasting "thunder-sleet", which is quite rare in this area. A tornado hit San Marcos, 20 miles south of us, and did some major damage. I-35 was closed in San Marcos due to lines down across the highway. I may even miss my weekly breakfast taco tomorrow morning.
So we made the right call in staying here in lovely warm dry Ruston. And Scott, having heard that we were "stuck" here, met us in town and handed us a set of movie coupons so we can go see something on Sunday when it's supposed to be raining. Kyle from the tourism bureau also called up and offered me a set of tickets to tonight's basketball game at the college. The "Lady Techsters" are playing. Man, this is too cushy ... but I passed on the tix only because we knew Emma wouldn't be up for it.
While in town we stopped off at the local hardware store to get propane, and I ran into Jody Backus, who owns the store. Jody and I happened to meet yesterday at the reception for the governor. In addition to being a local businessman, he's also a member of the "Police Jury" which is sort of a Louisiana name for a town council. It turns out his grandfather owned an Airstream, too, and did some cool modifications on it. Jody is going to try to find me some pictures of it.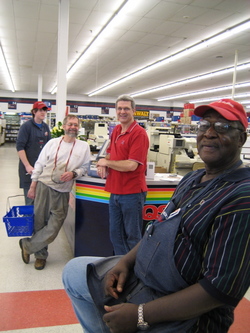 Jody Backus, in the red shirt
Running into him again so soon really reminded me of how I've been feeling about Ruston all week: it's a big town with a small town feel. Everyone's so friendly ... and everyone seems to know everyone else.
This afternoon I was sitting at our picnic table enjoying the warm south breeze and reading, when a fellow on a mountain bike came riding up. Turns out he was James Ramseur, who has been running the Parish Park since 1996. He designed the mountain bike trails, and lives right in the park with his family.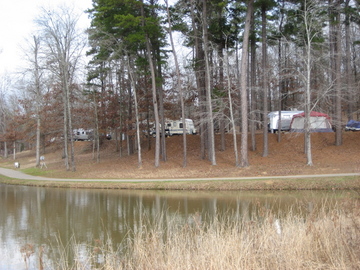 Our Airstream (left, in the trees) and a vintage 60s Airstream alongside the lake
We told James that the park was too cheap at $20 for a lakeside site with full hookups, but he said people had complained it was too much! Incredible. It's a steal. This park is excellent, with the woodsy feel of a state park but plenty of amenities, including bicycling and walking trails, a sand beach with swimming area, gazebos, docks, and rental spaces for gatherings. Plus three bars on the cell phone, Verizon Internet works, and we're only a few miles from everything. We had a nice talk before he had to ride off with his 10-year-old son.
So today has been very nice and we're happy to stay on a little longer. Perhaps tomorrow we'll go out for lunch, see a movie, or even visit a plantation home. There's still plenty to do in Lincoln Parish while we wait for Texas to warm up and dry out.