Mail call!
Today was mail day, which means we drove to the Ft Walton Beach post office to pick up General Delivery of whatever our home post office, friends, and family sent along last week. Every week or two I pick a post office that will be along our projected route, and spread the word. Next week it will be:
Rich Luhr
General Delivery
Ruston, LA 71270-9998
I also let people know the window of availability. In this case, we'll pick up mail on the 10th or 11th, so First Class letters need to be in the mail by Friday this week to be safe.
In today's mail was something I'd been waiting for. You may recall that in Tampa I had to use the last of my "buttonhead" rivets to repair the dump valve bracket. So I had written to our friends Don and Amanda and Donal to ask if they would mail me a small envelope of half a dozen rivets. I knew Don had recently bought a large box of them and would have spares.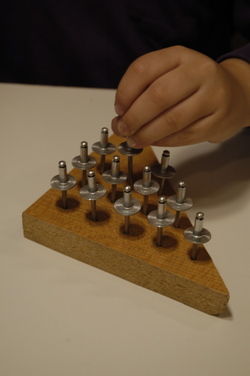 The rivets arrived today, elaborately wrapped as a Christmas present. Now, if you've ever been to Cracker Barrel you'll recognize what they did. It's that insanely infuriating puzzle/game that they put on the tables at every Cracker Barrel, but using rivets as the game pieces. Of course, we love that game and we play it competitively when we stop at Cracker Barrels. So now we have both a handmade version of the game which will remind us of our friends, and a handy rivet storage block.