Last night was possibly the noisiest night we've spent in the Airstream. After a 400 mile drive (way over budget, but we're trying to make up for leaving Jackson Center late), we pulled into a Wal-Mart that had long spaces especially for RVs and tractor-trailers. I've never seen that before at a Wal-Mart.
We figured it was logical to pull in between a couple of big rigs, in a sort of modern-day circling of the wagons, but that was a huge mistake. The rigs ran their diesel engines all night long, and they came and went noisily in the wee hours of the morning. We turned all three Fantastic Vents on, which masked the sound reasonably well, but I still woke up at 3 a.m. from something "" probably the cold symptoms "" and could not get back to sleep. I ended up responding to emails from 4 a.m. to 5 a.m., and then getting back to a fitful and uncomfortable sleep.
I hate having colds. My brain works at about 2/3 speed and the whole world seems to be a bit foggy. There's also the usual symptoms that nobody wants to see or hear: the drippy nose, the froggy voice, the snurking sounds. I drove just two hours in the morning and then turned the keys over to Brett for the rest of the day. He did fine, owing to a couple of years of owning a 31-foot Sovereign himself. I've never allowed anyone to tow our trailer before, but Brett is pretty handy with vehicles and so there were only a few moments when I had to close my eyes in terror.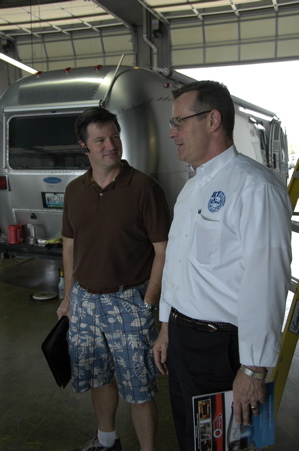 Given my repellent condition, it was not the best day to go visiting, but we were directly on a path past Bill Thomas Camper Sales, a leading Airstream dealer and supporting advertiser. Neither Brett nor I had been to see their new facility, so we stopped in and met with Glenn Thomas for an hour. Nice place, and of course they had lots of shiny new Airstreams for us to crawl around inside. I was interested to see that they have five full-hookup spots in their lot, very convenient for an overnight stopover from I-270 in Wentzville, just west of St Louis.
Since having our disc brake pads replaced in Jackson Center, the brakes have been so-so. That's because they need a little use before they "wear in." The new rotor also had a burning smell for the first few hundred miles, which is normal. About halfway through our drive today Brett suddenly noticed the brakes grabbing much more strongly, to the point that we had to turn down the voltage on the Prodigy brake controller. At first he thought that something was wrong, but it was just the pads wearing in.
Not long after, they settled down and the stops became very smooth and effortless. Now the brakes are at their very best, just like disc brakes are supposed to be. I'd forgotten how good they can be.
We have since crossed into Kansas. Facing a long dull ride on I-70 again, we took our friend Joe's advice and detoured to try Route 56. This road follows the original Santa Fe trail, and historic markers are everywhere. A portion goes through the Flint Hills and the tall grass prairie. It will take us longer to cross Kansas this way, but we have some time to spare since we hustled across Indiana, Illinois, and Missouri.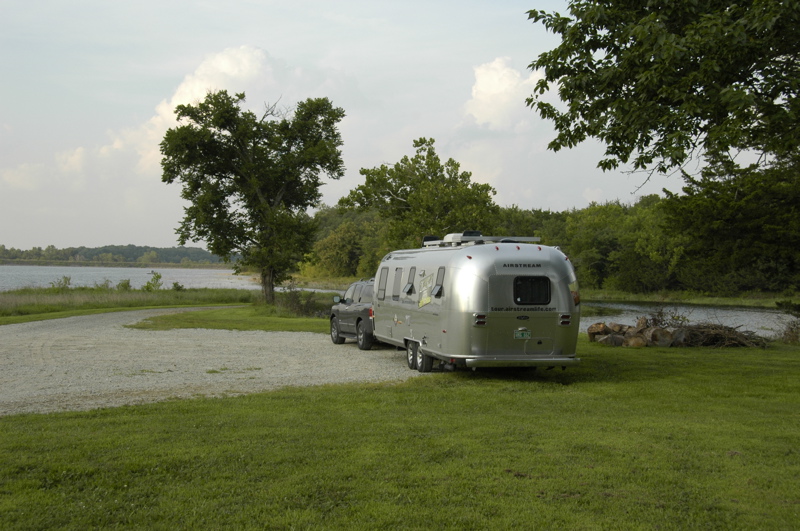 Our stop tonight is at the eastern end of Rt 56, on the shore of a small state fishing lake. There are about four primitive sites for camping here, and no rangers, no fees, no amenities. Nobody is here at all, unless you count the kayaker I spotted on the lake this evening. Finding a beautiful quiet spot like this is an experience you only get when you take the road less traveled. I'm already glad we chose to skip the seductive, straight and smooth I-70, for the sinuous and scenic Rt 56.