A blue polar bear and a pirate girl went wandering down the streets of Ashland, OR today. Fortunately no one noticed because they were part of a large parade of oddly-dressed people.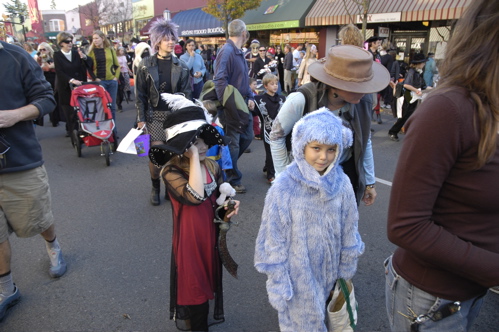 Ashland throws a huge costume parade down the main street for Halloween, and we were invited to attend by our new friends Kelli, Rob, and Allison. I say "new friends" because we've never met them before. Like us, they are traveling in an Airstream trailer with a young daughter and blogging the experience. Kelli and I have been reading each others blog for a few months, and Kelli realized recently that we would all be in Oregon right around Halloween, and invited us down so the girls could trick-or-treat together.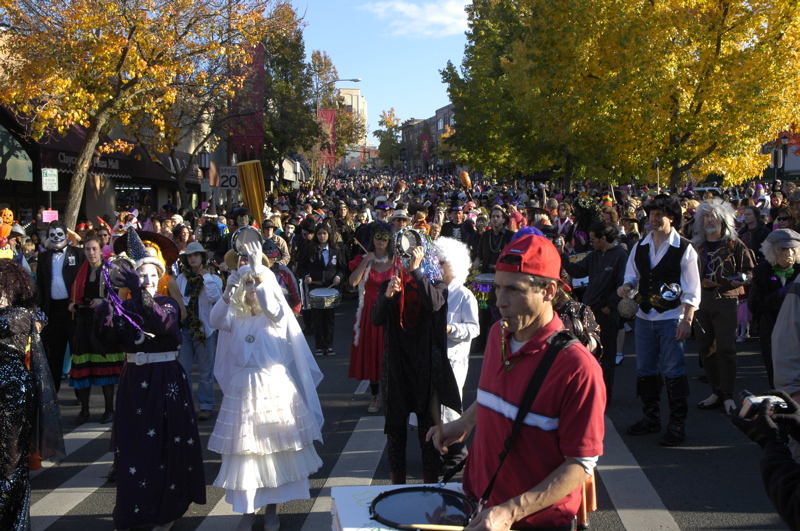 That turned out be a superb idea. Not only did Emma and Allison have a fabulous time together (parading, collecting candy, sharing their own private booth for pasta dinner after the parade, etc.) but the adults found a lot of common ground too. We're thinking about getting together for some travels in California in the next couple of weeks.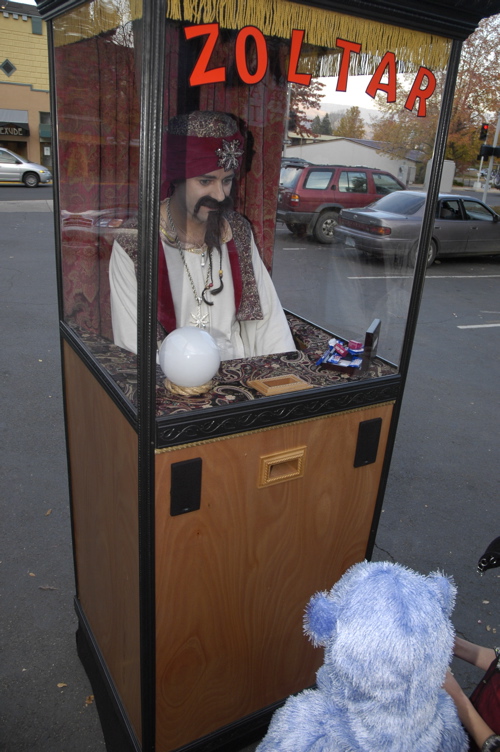 The Ashland parade was full of incredible and creative costumes, but the most amazing costume we saw today had to be Zoltar. This guy not only built the booth (full of intricate details) and the costume, but mounted the whole rig atop a Segway so it could travel along the sidewalks and streets.
Without video it's hard to convey how startling it is to see an entire booth, complete with mystical fortune-telling "robot" inside, roll up to you. It's even more magical when strange music begins to play, and you hear Zoltar's recorded voice announce in ethereal tones, "ZOLTAR SPEAKS!" Then he either tells your fortune or a joke, and the "robot" inside slowly picks up a candy and drops it in the bin so that you — the lucky recipient of a visit by Zoltar — can retrieve it.
And then, Zoltar silently glides away, booth and all.
It's pure magic, and the guy who came up with it deserves some sort of award. Nicely done.