Our hosts Mike and Tracy have wanted to take us out on some 4WD adventures around Silverton. It's not hard to find good 4WD roads here, in fact almost all the roads outside of the town center require 4WD. The old mining access roads that criss-cross the mountains have been claimed by the County, and are "maintained" to a relatively primitive standard for tourists and modern-day prospectors to use.
No matter where you go, you will see old stamp mills (for refining ore) or their foundations, hanging onto steep hills. There are also literally hundreds of abandoned mines and shafts. Some have been sealed by the Bureau of Mine Safety, others haven't. (Don't go in old mines under any circumstances.) There are also ghost towns high up in the mountains, and the remains of mining camps.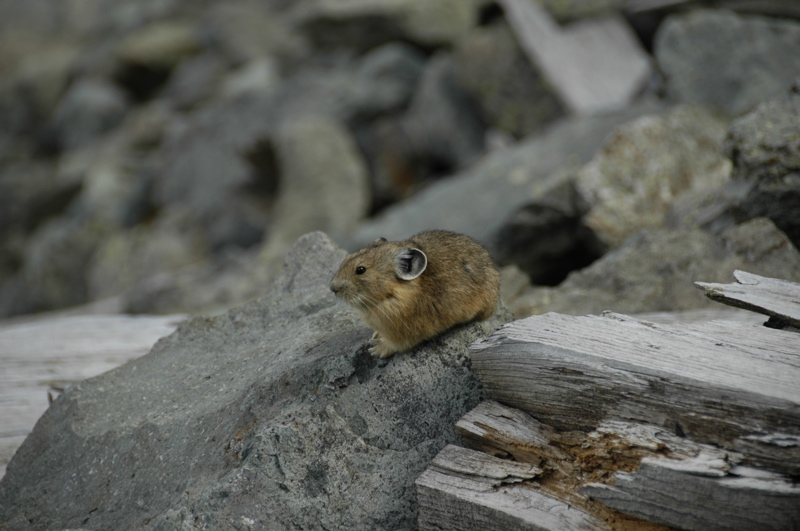 And, thankfully, there are pikas. Pikas are cute little rabbit-like creatures that inhabit high altitudes. They can't survive in warm climates, so they are an indicator species of global warming. When temperatures go up, so do the pikas, until they can't go up any further, and then they disappear.
It turns out that pikas thrive in areas near old mines. The piles of rock and tailings give them housing and protection, and the nearby meadows provide their food. In a one-acre area near a mine at 10,500 feet, I spotted a dozen or so pikas and heard many more chirping to each other. I also spotted a few marmots, which are just fun to watch.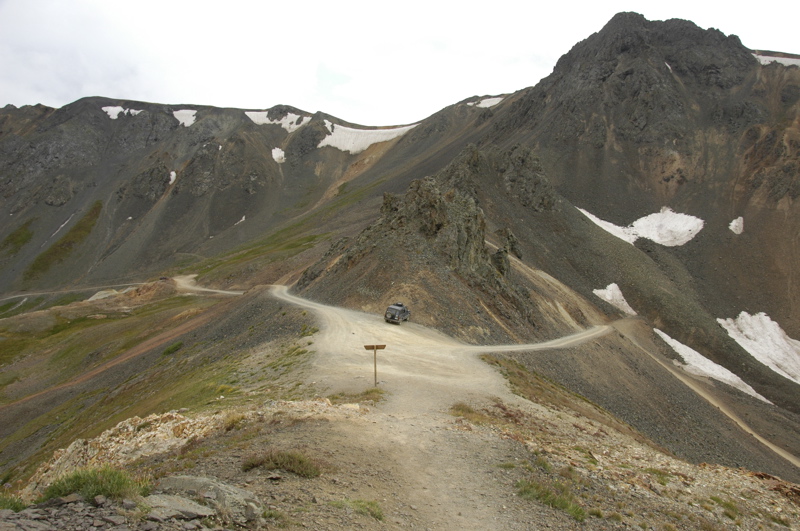 Paused at California Pass, alt 12,930. Note the Isuzu at center.
The 4WD roads can be intimidating. There are lots of places where the road has a steep hairpin bend and the drop-off is a thousand feet or more. I can't count the number of times I was gripping a handhold in the Isuzu in complete terror. Fortunately, Mike is an extremely careful driver with a lot of experience in driving these roads. We wound up to a peak of 12,900 feet where the views were spectacular, and then looped around the mountains to come back to Silverton by a different approach.
You can't really see this area without a 4WD vehicle. We could have taken the Armada, but it is too large for some of the turns. The Isuzu Trooper was a fine choice because of its small size and nimbleness, and a Jeep would have been as well. You can rent Jeeps in downtown Silverton.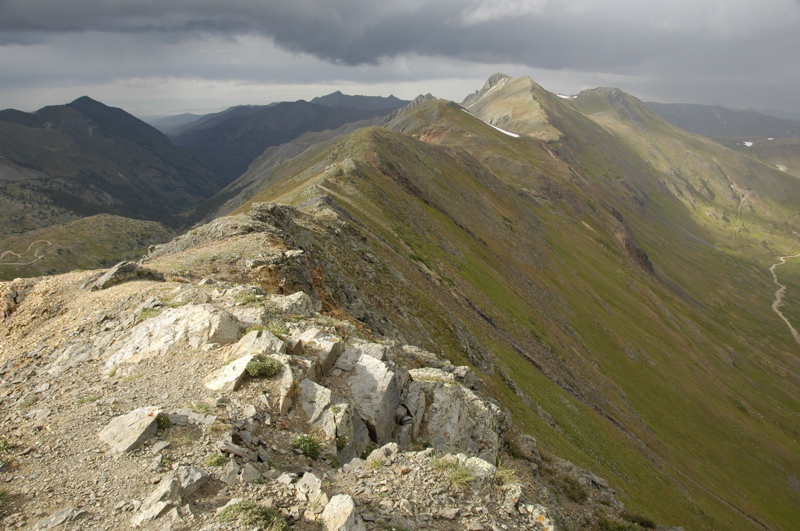 View from California Pass.

At each ghost town or abandoned mine, we'd park the car and look around for a while. It's amazing that over a century ago men somehow got up to these places above 10,000 feet, built roads and railways and trams, and managed to mine metals from hard rock mountains, all with a steam-engine-and-burro level of technology. Just walking around at these altitudes will tire you. These folks were up there living year-round in crude cabins, where snowfall is routinely dozens of feet. Just the existence of the roads is absolutely amazing when you're up there driving on them.
By the way, Silverton is an excellent place to camp in relative seclusion if you are willing to pull your RV over a few bumpy dirt roads. Free camping is widely available on public land (as well as at three commercial campgrounds in town). "Make local inquiries," as they say, before wandering off the beaten path.
Well, we've seen a fair bit of the Silverton area but there is much more. We'll be back again. I don't know when, but we will be back, someday.