Everybody loves to see the vintage trailers, especially the polished ones. So every year at the International Rally one of the most popular events is the Vintage Open House, where all the "vintage folks" open their trailers to anyone who cares to come in and look around.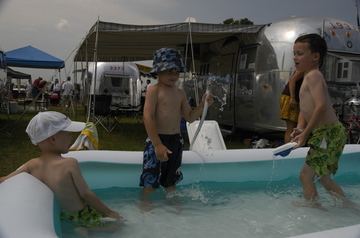 This is always a superb opportunity for photography, but I have to admit that the wilting heat (97 degrees) and humidity and gnats definitely put a damper on my efforts. I spent a lot of time hiding inside the air conditioned trailers.
But one thing that made it worth coming out into the heat was Vince and Lonnie's jambalaya, which they had started cooking early in the morning and were serving to all visitors. You never go hungry when you're camping with them.
This evening thunderstorms circled the fairgrounds and lit up the sky for hours without giving us any rain. It made for dramatic lighting over the field of silver trailers, and a nice show. The breezes that came with them kept the gnats down, too.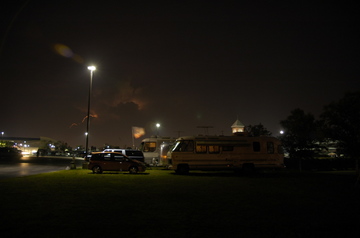 Wandering around the vintage area late this evening, I found a group of people watching "RV" on an outside screen, and the group below yakking it up about the events of the day. Everyone seemed to be in a great mood … happy to be here, happy to have a cool evening, happy about the way things turned out today.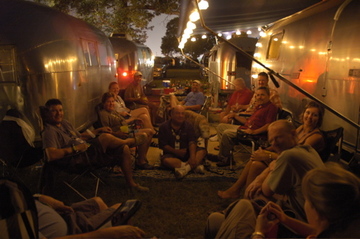 Comments off