I am fortunate to have in-laws who are nice people, with nice kids. Emma spent the entire day with her cousin Hannah, and Eleanor spent the day with her sister-in-law Alison. They all had fun at the swimming pool. I spent the day working on their dining room table. Oh well.
One of the fun things about visiting Emma's cousins is that there are so many of them. There are five kids from 18 to 5 years old in this family, all great. The two oldest girls and their boyfriends joined us for dinner. Eleanor made an Italian entree that I can't spell (but it was really good), and she seasoned the cauliflower in such a way that everyone liked it (which I would have thought impossible).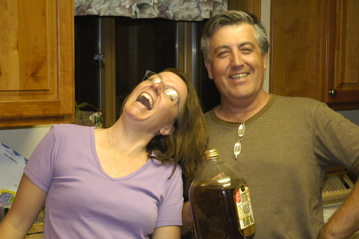 Eleanor's grandfather was the Head Chef of the Locke-Ober Restaurant in Boston for twenty years. That's where Eleanor got her cooking talent. Her brother Arthur also inherited the cooking gene, so when the two of them get together it's time to build up your appetite. Tonight Arthur was busy at a baseball game, so he only showed up for the eating segment of the evening, but I wouldn't be surprised if they team up in the kitchen later this week.
I uploaded pictures from Garden of the Gods city park today. See the Flickr photo album. We also worked out some tentative plans for the weekend and next week. We're going to head west into the Rockies to Salida and Gunnison. This will be our last chance at Colorado for a long time, and we would like to enjoy it as much as possible.
Comments off