It's only 4:30 as I write this (Pacific Time) and I'm already feeling the weight of the day. What a day it has been. The politics are behind us, thank goodness. Here's a rundown of the other events of the day: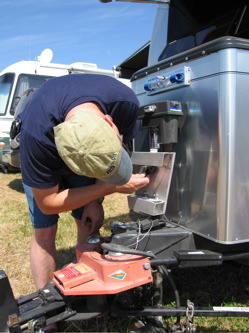 Brett and I hit the local hardware store to get the remaining bits to mount my new flagpole holder. When Colin Hyde and Steve Hingtgen arrived mid-morning, Colin helped us drill and mount it to the power hitch. Now I've got my two flags flying: one USA, one "illegal" Airstream Life flag.
Steve, Brett, Colin and I hung back in the trailer for a few hours, waiting for cell phone updates from the delegates meeting. At noon, we transferred to the Vintage Open House, which was spectacular — one of the best I've attended.
We saw some really good examples of rare Airstreams, including a 16-foot 1953 Trailwind (not Tradewind!), a 1977 Caravanner (huge living space, no bedroom!), a 1958 Pacer, several beautifully restored Flying Clouds, etc.
The vintage open house was a slightly marred by a poor decision by the management to pump out the trailer tanks at the same time. The odor of black tank wafted over the trailers from time to time … but we were still happy to be there and see the cool rigs. The local press showed up to conduct interviews and Colin reports that he was photographed with his latest project, a 1965 Caravel, wearing his Airstream Life t-shirt.
We departed from that at 2 pm to the ice cream social at the new Airstream display area. There we found Carol moving into her new 27FB Classic, which is a beautiful trailer. Eleanor and Emma caught up with us there too. Emma had been playing with friends all morning. I guess free ice cream will do that.
Adam and Susan called at 3:00 to say they were heading in, so Brett and I pedalled over to meet them in the bullpen. They ran into another parking SNAFU: the parkers, thinking things were quiet, had quit for the day. We found our friend Robert Trent there waiting as well. Fortunately, someone showed up and found a few recruits, and everyone was eventually parked.
Now we are 1/2 an hour late for the Vintage happy hour, and I just got a call from Wendimere, the "Health Chic". I'll tell you about her later — if she ever gets parked. We're heading out for the happy hour to meet everyone, and then a group of us are going out for dinner. It never stops here…