I'm nearing the end … I have to be.
I really didn't anticipate spending this much time on this project. Today was another 8+ hour day, cut short by rain at 4:45 p.m. That puts the total of my hours up to about 30-35, and Eleanor has probably put in about 16 additional hours. Why am I surprised? It's a big job, even for a short 17-foot trailer.

I soloed today. Eleanor wasn't available for more than an hour due to things on her schedule. Fortunately at this point I've figured out how to set up large pieces for cutting by myself, so the need for someone to hold the end of the board was minimal. Despite working alone I managed to make pretty good progress: another closet door (a tricky job due to its length), a dinette end, a half-height bulkhead that goes next to the refrigerator, two sliding doors, two under-dinette doors, and several "mystery pieces." That's one of them in the photo, sitting next to the ratty old part it replaces.

I'm really glad we are rebuilding the entire interior. After spending a pile of money to have every other part of the trailer renovated, it just didn't seem right to put the old interior back. I was considering it for economy's sake, but never really was enthusiastic about the idea. Now that I'm deep into the guts of our cabinetry, I can see the water stains from ancient leaks, burn marks from a plumber's torch, multiple stripped-out screw holes, and even a little rot here and there. Even though some parts of the cabinetry (such as the interior partition at right) won't be visible to visitors, the smell of decay and the occasional crumbling of wood would have bugged me forever.

At this point almost every piece is done except the two overhead compartments, and a few pieces of the interior that didn't make it back to here. I'm going to store the overhead compartments and the remaining plywood to re-build them, and bring all the completed parts to Plattsburgh for re-installation. As I write this, the final two glue-ups are setting on the workbench. In the photo you can also see a large bulkhead off to the right. Every other completed part is loaded in the Armada.
Susanne called this morning with five stain recommendations, three from Cabot and two from Minwax. Her suggestion was to match the background color in the Marmoleum floor, which is a sort of subtle putty color. The floor's primary color is yellow, but if we matched that color the interior could get overwhelming. We picked up three of the Cabot colors and I applied them to some scraps, then sprayed them with polyurethane for get a finished look. One was ruled out right away ("Coastal Gray"), and the other two are in consideration.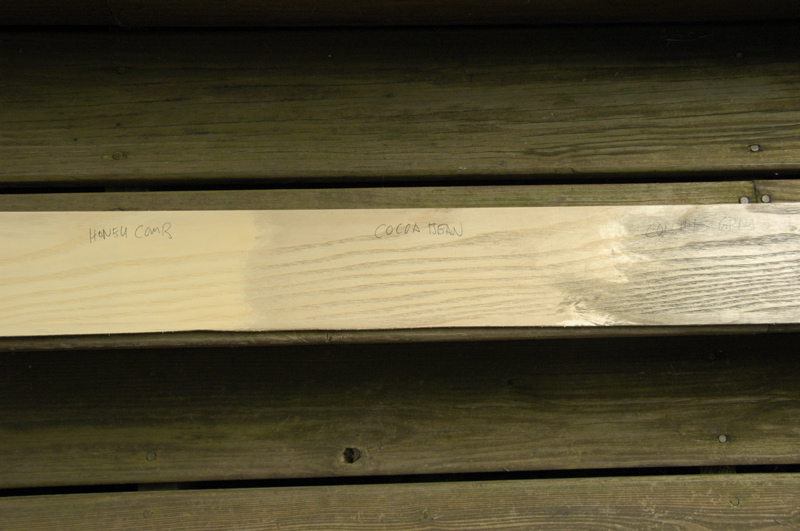 I suspect we'll go with the middle one, which is called "Cocoa Bean." It accomplishes our goal of evening out the look of the wood, without overpowering the interior. The "Honeycomb" on the left is not bad but in real life it appears rather loud. My preference is for a warmer tone than the Cocoa Bean, but anything warmer might clash with the floor. Susanne is a professional Interior Designer and I've seen several of her interior designs in trailers, and they are always beautiful and understated. So I trust her. Eleanor will review the colors tonight and hopefully we'll make a choice, so we can begin staining on Friday.