It has been uneventful day of towing but good things are happening nonetheless. We broke camp this morning in the strongest wind we've had at Myrtle Beach yet. It felt like a steady 20+ MPH. I had to hold things down to keep them from blowing away.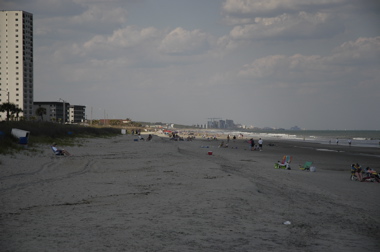 Goodbye, Myrtle Beach!
While towing west, I talked on the phone with a few friends (fellow Airstreamers). Brett is making plans to join us at the International Rally in Oregon this summer. Rich C is going to try to hook up with us in New Mexico and caravan with us for a month or so. Adam and Susan are going to meet us at International and caravan with us to Montana. And in Montana, we'll meet up with Bert and Janie for a week or so!
Meanwhile, Eleanor was on the laptop from the passenger seat, researching flights for our visit home (Vermont). It's great to be able to make productive use of the road time with the Internet and a cell phone. Emma was in the back chatting on the phone, coloring, playing with her Leap Pad, and playing with her stuffed animals, so we all managed to make the 7+ hours of driving not as horrible as it could have been. And now, here we are … at Cracker Barrel.
Tomorrow will be a shorter day of towing. We are going to try to intersperse the long days with short days, as we head 1200 miles west to our next major stop in Weatherford TX. As I mentioned, we are going to have a bunch of cool upgrades done to our rolling home at Roger Williams Airstream in Weatherford, so if you live nearby let me know if you can meet us there! We're getting disc brakes, solar panels, and some Vista Views too. Should be very interesting to watch!