The casino on Lake Charles did not get our business for breakfast. As it turned out, not only does I-10 roar overhead the RV parking area, but a very loud train comes by three or four times at night. The deafening noise of this train and its long horn blasts will wake anyone with normal hearing. So I slept until nine and found that Adam and Susan had uncharacteristically arisen very early and had breakfast already. We skipped the call of the buffet and just piled into the Armada to continue our journey.
Since we had only about 200 miles to go and all day to do it, we decided to try an alternate route to the New Orleans area. US 90 drops south and comes to the west bank of the Mississippi River via Houma. This is a road I'd never driven, despite having lived in Louisiana for five years back in the 1980s.
US 90 brought us past a turn-off for Avery Island, which is a spot of land surrounded by a meandering river (hence, "island"), where Tabasco sauce is made. Although it seems to be in the middle of nowhere, it is a fairly popular tourist destination. The Tabasco factory offers a free tour, but it costs $1 to cross the little bridge to enter the "island." (This money is dedicated to maintaining security and ecological conservation on the island, says the brochure.)
Avery Island is a salt dome, which is basically a very deep salt deposit underground that has been pushed up by geologic forces. As a result, the island is a high point of land — a hill in a place where otherwise are no hills. Salt is mined, trapped natural gas and oil are pumped out, and on the surface they grow peppers for seed. It's a pretty industrious little place.
It's also somewhat exclusive. About 80 houses are on the island, all occupied by the families of full-time workers. Avery Island is really a factory town, privately owned by the family that owns the factory, and exploring the island (other than the factory and nearby Jungle Gardens attraction) is not encouraged.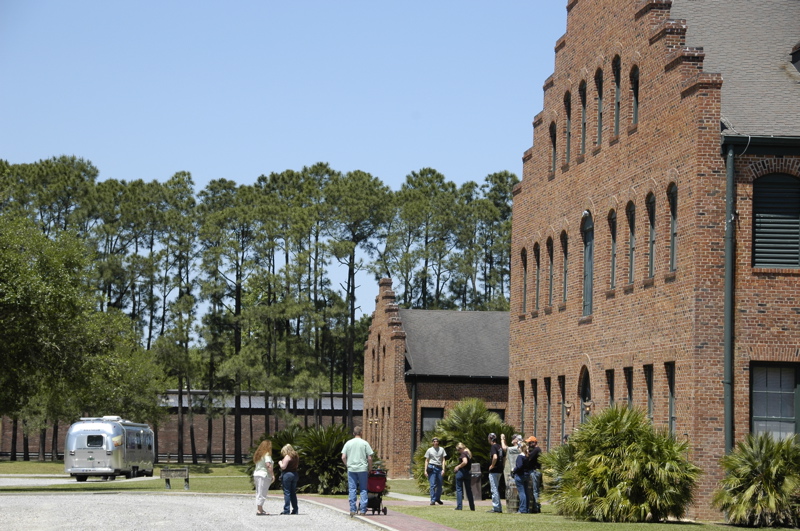 The tour and look at Avery Island are worth the 6 mile detour off US 90, and the $1 toll, in my opinion. You get little samples of Tabasco sauce in the deal, too, and of course there's a "country store" with everything imaginable that might involve Tabasco, including apparel and ice cream. (Eleanor says to try the Jalapeno ice cream.) There is a bus parking area which gave us plenty of room for the two RVs, so we stayed long enough to have lunch.
Tabasco factory coordinates: 29 °54'34.81″N 91 °54'11.34″W
The rest of US 90 was typical southern Louisiana driving: long stretches of bumpy concrete interspersed with occasional towns clustered around waterways. Eleanor spotted an alligator walking in a ditch near the road at one point, reminding me how very different everything has become since we crossed the invisible line between desert and swamp somewhere in east Texas.
We are now in a state park just outside New Orleans. We are close enough that this evening we drove over to Algiers and caught the ferry across the Mississippi (free for walk-on passengers) to Canal Street in New Orleans, and spent the evening walking the French Quarter. It appears completely unchanged since Katrina, which is not a surprise since the French Quarter sits on relatively high ground and was relatively untouched. The only thing that seems different is that Bourbon Street has gotten even sleazier, if that's possible. It's like an X-rated carnival midway now.
I got my long-awaited muffaletta from Frank's, which was just as good as I remembered it, and then we experienced the rowdy bustle of Cafe du Monde around 9 p.m. for two orders of beignets, coffee, and chocolate milk. Emma, loaded up with powdered sugar and chocolate milk, was very happy. We all were. New Orleans' French Quarter is a mad colorful display of excess sitting astride dignified history and fine dining. You can't help but find it intriguing and repellent all at once.
Comments off