Well, not quite as much progress as I expected yesterday, but in keeping with our new "go slower" philosophy, that's OK.
Before we even left Onley I got a couple of calls with urgent business that mandated me finding an Internet connection right away. Sprint had no coverage at the house, so we pulled out and started war-driving. That means Eleanor had the laptop open while I drove, and when we spotted a likely location for open wi-fi, I slowed down while she monitored signal strengths.
Eventually we settled at the clam shack (mentioned in my previous post). Unfortunately, there were programming problems on some of our new back-office software and other delays that kept me there for hours, working with our programmer in California. Eleanor said she didn't mind and Emma stayed busy, so I sat until I got as much done as I could, and then we headed out again. At that point it was nearly 4 pm, so our plan to drive to Kitty Hawk NC yesterday was blown.
We decided to just cross the bay and then camp in Virginia Beach at First Landing State Park, where we are now. This shorter trip gave us time to enjoy the Chesapeake Bay Bridge-Tunnel, which is really amazing. Driving it with an Airstream is no big deal, except that the winds were blowing fiercely today. Our rig handles very well with a cross wind, fortunately. I have to give the Hensley hitch most of the credit for that.
The route goes like this: bridge – natural island – bridge – tunnel – bridge – tunnel -bridge. It's about 17.6 miles in total.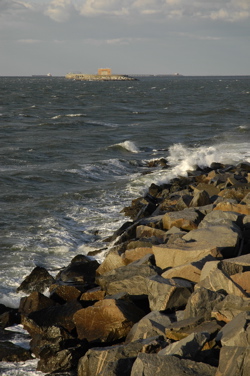 Looking from one island to the next. Between is one of the two tunnels.
We stopped on one of the man-made islands that connect the tunnels and bridges for a few photos, but the wind was unbelievable. The Airstream was getting hit broadside and rocking like the top car on a Ferris wheel. I would have been tempted to park overnight with stabilizers down, just for the experience, but parking is limited to 7 a.m. -7 p.m.

The trailer got coated with salt spray even this far from the water!
I've got business calls all day today, so we'll be parked here in the state park two nights. We are waaaay behind the schedule I thought we'd keep, but so what? Our only real deadline is to be in St Augustine FL for Halloween (so Emma has a place to trick-or-treat) and Orlando by Nov 2. Eleanor and Emma will explore the beach.
Solar-wise, we didn't do very well yesterday. It was partly cloudy all day, and combined with the low sun angle this time of year, and my hours of work on the laptop, we netted only about 25 amp-hours in the batteries. That would be fine to extend us a bit, but not sustainable over more than a few days. It doesn't matter today because the state park has electric, but in the future it seems we need to get our furnace use under control.
I'm thinking we will need to install a catalytic heater, which uses no electricity. I've owned two of them (in our Caravel and in Vintage Thunder) and they are great. The only problem is finding the right place to mount it.
Finally, a shameless promotion. Check out this video on YouTube.com, entitled " 'Dog' Sledding". It comes from my brother's company that makes the Hammerhead sled. (I co-founded the company with him in 2003.)
The sled has been picked up by Hammacher-Schlemmer, LL Bean, REI, and many others but still nobody seems to know about it. So he made a video of the Hammerhead in action, which is pretty fun to watch. Check it out if you've got broadband. We'd like to sell more sleds this Christmas!
Comments off