Now all you northern readers don't have to feel bad about our fun in the sun and warm weather down here in the south — because there isn't any of either in Texas! We woke up this morning to an inch of fresh snow and more coming down. The guys here at the dealership say they haven't seen snow here in years, and certainly not two back-to-back storms like the area has had this week.
Of course we were completely comfortable in the trailer last night. I mention this only because a lot of people ask us if our trailer is insulated. Of course it is. Temperatures in the 20s are no big deal. So if you want to go camping in sub-freezing weather, go right ahead. Your Airstream is built to take it. All the water tanks are heated by the furnace, and there's no need to "dry camp" as long as you can find an open dump station in the winter.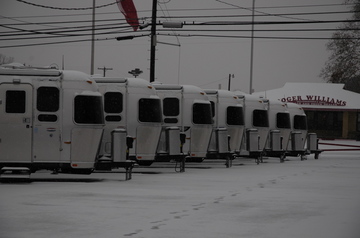 Today, technician Denver Russell has towed our trailer into the shop for our systems check, and a few upgrades. I'll be documenting everything we do over the next couple of days … because we aren't going anywhere while the roads slippery.