Last night I flew into Tampa and drove down the highway to Sarasota for the Florida State Rally. Pulled in around 12:30 a.m. local time to a fairground packed full of sleeping Airstreams, all gleaming in the dim moonlight.
I've been told that over 400 trailers are here so far, but that's not the official count yet. All I know is that they are now parking them outside the fence in an overflow area. It's a big rally. Surprisingly there's not much vintage participation this year (maybe 20 rigs so far?), but I expect more to arrive tomorrow.
This is a quiet, relaxing rally, and I really like the mellowness of it. Soft sandy grass underfoot, sunshine above, comfortable temperatures in the 70s, and not much on the schedule. Well, technically there is, but I'd rather sit in Brett's motorhome with the windows open and the awnings out, feeling the warm breeze and sipping a cold tea. Once in a while I put the laptop away and rode around the grounds on a bicycle to meet up with people.
With that technique, I missed the Opening Ceremonies and a lot of vendor seminars today. Ah well, I've seen them all before. I'm here to reconnect with people: friends, Airstream personnel, potential advertisers, and future interviewees. That's best done at a relaxed pace, dropping in on Happy Hours and sidling by vendor booths.
I have another reason for laying low today, too. Despite not having a cold, I had some trouble on the airplane (equalization again) and now have a left ear full of fluid. It is clearing on its own but in the meantime I can't hear much on that side. That made it a good day to park myself and do some work. I am going to have to restrict my flying in the future, which will make the Airstream (and occasionally Amtrak) more important as my primary modes of travel.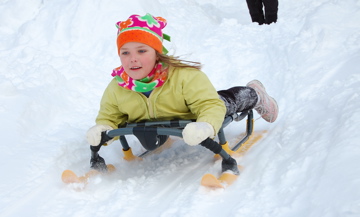 Emma is still having the time of her life up in Vermont: Disney On Ice, sledding on a Hammerhead sled, skating, and visiting friends. I'm glad she's getting winter activities … and I'm glad I'm not! It's a good deal for both of us for the moment and I'm sure we'll be happy to re-connect next week. PS: Eleanor, I miss you too!
Comments off