We seem to be really scoring with the kids these days. Two years ago when we were roaming California for the first time (in December), we went through a long spell of seeing hardly families, and we were wondering if this was going to be the pattern during the school year.
This year the situation has been much better. First we met up with 8-year-old Allison at Halloween, then again in Yellowstone. Here in Los Olivos we are lucky to find 7-year-old Madison, and this weekend we'll see another 7-year-old down in Ventura. Emma has been having a great time, and luckily we've enjoyed the company of all the parents as well.
Last night we backed the Airstream into the driveway of our hosts Dennis and Cindy just before sunset. I've got to be constantly aware of the short days now, because if we had arrived just 30 minutes later the moderately tricky backing job past trees and around corners would have been escalated to a bona fide "ordeal". Even in this part of southern California sunset is arriving before 5 p.m., which makes our driving days very short.
Last night Cindy made a great dinner for us all, and so tonight Eleanor is going to reciprocate with an Indian meal. I complain that the Airstream's cabinets contain too many ingredients and not enough food, and for non-cook like myself that is true. But on nights like this the value becomes clear. Eleanor is able to whip up an amazing ethnic dinner (Indian, Japanese, etc) right out of the masses of diverse ingredients in the cabinets. Since I love foreign food of all types, I can only sit back and admire as she creates something worthy of a genuine Indian restaurant in the space of an Airstream kitchen. Even outdoors in a 20-foot radius around the trailer you can smell the wonderful odors of rogan josh, curry, dal makhani, and palek paneer.
Los Olivos is in horse country, and it seems that nearly every house in the rural areas (which is most of it) has a horse paddock or a small farm growing nuts or berries. Just a short distance from our parking spot is a tiny downtown, which is filled with art galleries and wine tasting rooms. It's nice, pedestrian-friendly, and pleasantly uncrowded — at least this time of year. I went there today to mail a few boxes of books back to Tucson for storage (we're trying to lighten the trailer and make some room).
A tip for those of you who are on the road for long periods: look for the Priority Mail "Flat-Rate" boxes at the post office when shipping heavy items like books. You can stuff as much as you want in those boxes regardless of weight (for about $9) but you have to be sure to get the box that says "Flat Rate" on it. We divested ourselves of about 20 lbs of stuff, but more importantly freed up some valuable storage space.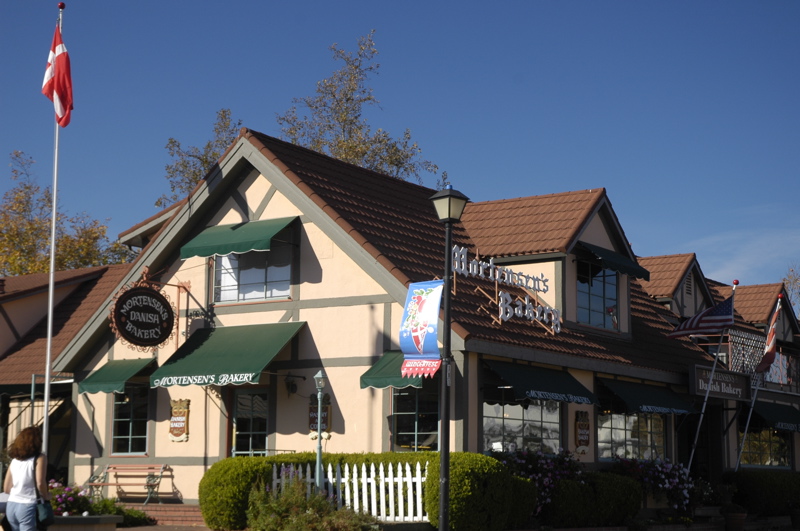 The other neat town near here is Solvang, a "Danish village" according to the billboards. The entire town is themed with Danish and psuedo-Danish architecture, much like Frankenmuth MI but quite a bit larger. Even the Mexican restaurant is clad in a Danish exterior. The overall effect is quaint to a fault, to the point that it begins to resemble EPCOT at DisneyWorld.
The stores are mostly one of these categories: wine shops, gift shops, restaurants, bakeries and inns, so it gets a little redundant after a while. Fortunately, Solvang has managed to keep out the homogenization of chain retail shops, and except for an IZOD Outlet most of the stores seem to be local and unique. That makes it much more interesting. If the outlets take over, Solvang will look like Freeport, Maine in drag.
The bakeries and restaurants are my favorite part of Solvang, only because I like to eat anything that doesn't move quickly. We decided to be totally decadent today and have a pastry lunch at "Mortensen's Danish Bakery", and is our practice we all ordered something different: a butter cream-and-raspberry-filled puff pastry for Emma, a raspberry Danish for me, and some sort of almond cake with mocha butter cream for Eleanor. We haven't been so bad about lunch in a year, when we did the same thing at a little French pastry shop in St Augustine FL. It's good to be bad once in a while.