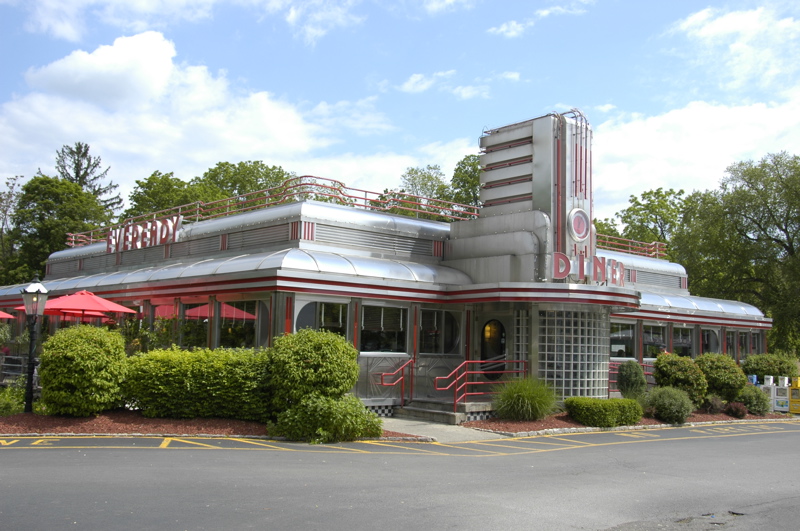 Our last plan with Rick and Sandi was to visit Hyde Park's "Eveready Diner" for Sunday brunch before heading out from the state park. This place was just begging for us to come in and try a stack of buttermilk pancakes, an omelette, and some of those fat sausages.
We weren't disappointed. Breakfast was served quickly, the tall stack was sweet and light, and the interior of the restaurant was just as visually stylish as the outside. It's a nice spot for a hearty breakfast (served all day, of course) before hitching up the trailer and hitting the New York State Thruway.
We had an easy tow on the schedule. I've got to do some advance work for the upcoming Vintage Trailer Jam in Saratoga Springs, which is only 100 miles north of Hyde Park. A client of Colin Hyde's happens to live in the area and he offered us courtesy parking for a couple of nights, so we yanked the Airstream up the highway knowing we had a spot "by the barn" with electric, somewhere a few miles from Saratoga Spa State Park, where the Jam is being held.
There's a lot to do in Saratoga Springs and a lot of details to resolve before the Jam can occur, so I've got my work cut out for me. We're trying to hold a vintage RV rally on the grounds of the Saratoga Automobile Museum (which is in the state park), and there are no hookups of any kind available, nor any dump station or dining facilities. So we've got to bring everything in, which means thousand logistical challenges to resolve.
I expect it will be worth the effort, because just from the little I saw from Route 9 as we drove by, the park appears to be absolutely beautiful. I've also been told the museum is great, as is the horse race track, the golf course, the spa, and the famous spring water that people used to come here for. Eleanor and I will be checking out as much as we can over the next two days.
The RV Industry Association reports something we already knew: Even with higher fuel prices, traveling by RV is still less expensive for families on vacation than the alternatives. Air travel is getting more expensive too. Tallying up our costs even at $4 per gallon (which today we paid for the first time ever), our fuel cost for this cross-country roundtrip from Arizona to Vermont will be less than $2400. Add in lodging (campground fees), tires, and maintenance and we're still under $4,000. That's for six months of travel, meaning about $22 per day. It's still the best deal around, and still cheaper than staying home.
Our coordinates: 43 ° 5'47.54″N 73 °51'5.20″W