Am I a success at ukulele? Tommy says I'm doing well. I've learned a half dozen chords and can fumble into a few others. My strumming is coming along, although very basic. I can work my way through a few simple songs, and even sing along with myself.
But Eleanor got a report from a fellow camper that they changed sites today. Not knowing that Eleanor was complicit in our scheme to treat the campground to the sound of my practicing, they confessed to her that the ukulele music in the afternoon was bothering their cats.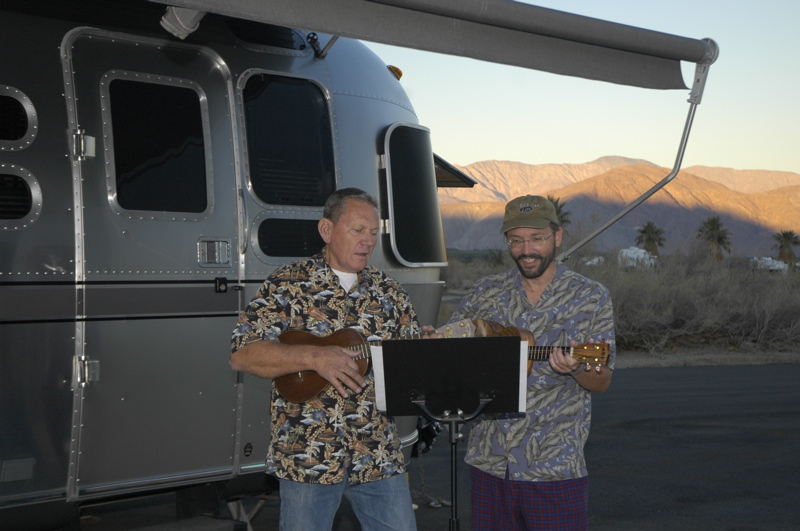 Tommy and Rich work on a new routine to annoy cats
I spent the day from 7:30 a.m. to 3:30 p.m. working in the Airstream, but broke away as the sun was setting to join Tommy by his Airstream again. We both donned our Hawaiian shirts for the occasion. Part of the fun of playing ukulele is getting to dress up, wear a lei if you want, and sing silly songs. What other hobby gives you such opportunities?
Emma got into it too. That little soprano uke is just right for her. She's holding it much more confidently now, and has learned two chords, C and F. That's all she needs to play a very basic tune. I hope we can keep her interested long enough to learn a little about music, because this will be our homeschooling music lesson. Any instrument that holds her attention will do, and right now she likes the uke because she can do it with Tommy and me.
For all the scenic beauty around us, it's tough practicing right now. We've been getting peak temperatures in the upper 60s, but things change fast in the afternoon. Our window of opportunity is small. By 5:30 it was into the 50s and my fingers were too cold to play anymore, even with a little campfire nearby. Last night the campground hit a low of 32, which is pretty much as cold as it gets here in normal conditions. (I know none of you in other parts of the country are crying for us since you're probably experiencing much colder temperatures and even s–w.)
Bill checked in today via email. Apparently inspired by the blog, he has agreed to dust off his mandolin for a little bluegrass strumming. He'll be here on Thursday. I have no idea how a ukulele and a mandolin played by two rank amateurs will sound, but I am sure of one thing: the cats won't like it.