As I expected, everything went nuts when Bill and Larry arrived. They showed up with a snowball for Emma, collected up around 4000 ft in the mountains which they drove through on the way here. Next thing I knew, Emma was in their trailer learning how to de-vein shrimp with Larry, and soon we were eating jook (which is a sort of turkey soup), spicy shrimp, and salad.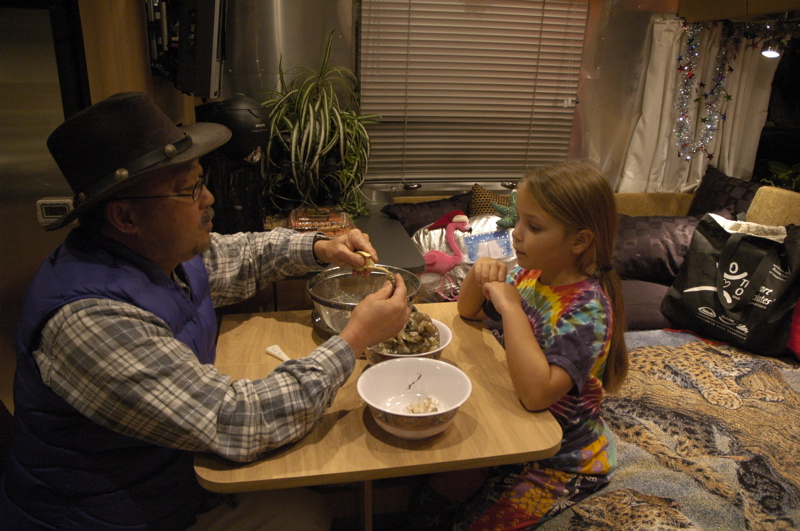 But that was just a warm-up. Today at 2:00 the real show began. Bill is notorious for his re-enacted characters. Up at Cabrillo National Monument in San Diego, you'll see him in the museum, recreated in wax as the lighthouse keeper. Down here in the desert valley, he has appeared as the Conductor from The Polar Express. I warmed up the audience (consisting of Eleanor, Emma, plus our new Airstream neighbors Lisa, Kelly, and 6-year-old Austin) with a quick sing-along of "Opihi Man", and then the Conductor appeared.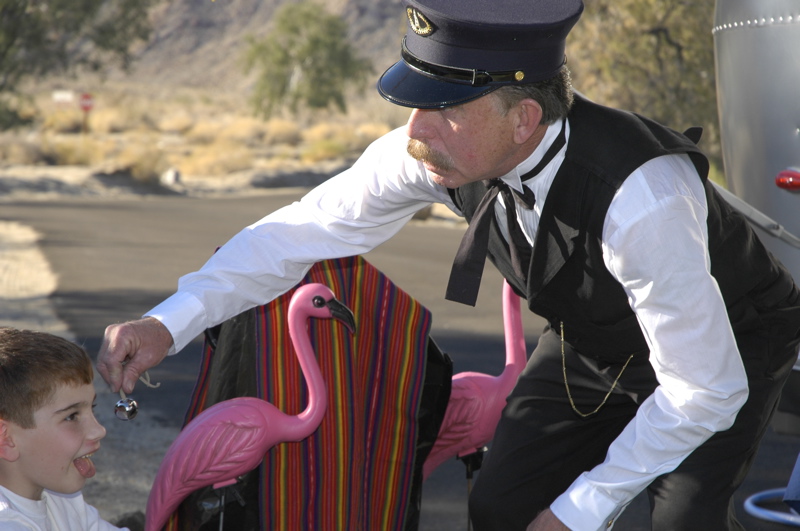 After the Conductor did his bit (with the silver bell that only rings for people who believe in Santa Claus), Larry did an introduction and then we had an appearance from the Plague Doctor. This fellow explained about the history of bubonic plague, a disease that still affects parts of the southwest, and his medieval beliefs of how it was spread.
Next up was a character from the Nutcracker Suite. He told the story of the Nutcracker, and demonstrated his invention the stereoscope. Interestingly, one of the stereoscope images was of the lighthouse keeper at Cabrillo National Monument.
Somewhere in there we all ended up with chopsticks eating samples of ginger bread, and before we knew it, the show was over. Then Bill broke out his mandolin and we took a crack at playing a bluegrass tune together. Tomorrow we're going to see if we can work up a Christmas carol.
Christmas music on mandolin and ukulele in the sunny desert … non-traditional, but fun.