Brett said he wanted to see the border town of Nogales (Sonora, MX) on his last day in town. While I'm not a fan of border towns in general, it is an interesting place to visit if you only have an hour. Once you've visited it you can claim you've been to Cuidad Juarez, Tijuana, and all the rest because once you've seen one border town, you've seen them all.
That's probably not entirely fair, because some towns have interesting history and attractive neighborhoods, but all of them have things in common: aggressive hawkers in the markets, cheap meds in dozens of pharmacia, seedy areas where you can get things, and lots of restaurants. (I wasn't surprised by the pharmacies advertising antibiotics and ED pills, but I was surprised by the guy on the street who leaned over and whispered, "I got Oxycontin, Vicodin … come on inside.")
On the lighter side, there were literally heaps of iron sculptures, colorful rugs, leather boots, ponchos, and cattle skulls. I had no idea cattle skulls were so popular with the tourists.
We were joined in our walk around Nogales by Patti, the Mexican wife of a friend who lives in Nogales (Arizona). She steered us through the maze of shops and hustlers, and saved Brett from buying some fake silver. He found the real stuff eventually. If you buy silver, be sure it's the real thing. The sellers weren't trying to defraud him, but there was a momentary language barrier until Patti stepped in. Real silver is marked as such, and the metal is not any cheaper in Mexico, so if you see a nice "silver" bracelet for $8, think twice.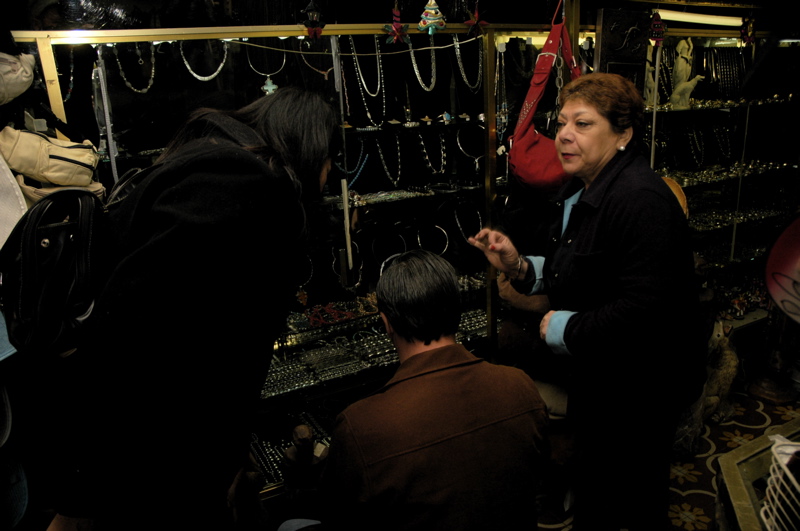 I got a chance to do some brainstorming with Patti about future trips to Mexico. She and my old friend Felix have a house in Sonora near the Sea of Cortez. It just so happens that there's a nice open space across the street from their house, so I'm going to try to put together a gathering there, perhaps as a jumping-off spot for San Carlos and other towns. I also got some tips on things to do (and eat) in Hermosillo, so I'm greatly encouraged. The challenge will be finding the time in February or March before we head out of the southwest for the season.