Last night when most people were watching the Super Bowl we were over having our first family dinner with local Tucsonians. Judy has been watching this blog for some time, ever since I wrote a rant about how New Urbanism and RV'ing don't seem to mix too well. She and her husband Rick live in a New Urbanist-type community called Civano, which we seriously considered moving into before we bought our current house.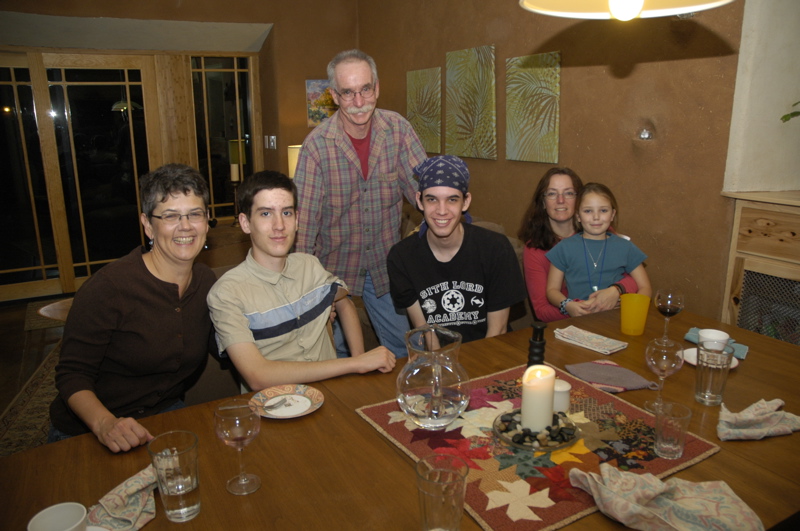 Judy and I have stayed in touch via email, and now that we are finally back in town, she invited us over for lasagna dinner with the family. It turns out we have a tremendous amount in common: they have homeschooled their kids (very successfully, I might add) and we share a lot of ideals about homes, travel, and lifestyle. I was also very impressed with their cozy straw-bale house, which is beautiful and exactly what we would have like to have bought if we could have found it for sale. (They built it themselves.)
The really significant thing about this dinner, for me, was that it represents the beginning of us finally making new friends in the local area. It was almost a weird sensation for me to recognize that — unlike virtually everyone else we've befriended in the past couple of years — they don't own an Airstream. They've never seen my magazine, and thus the basis for our friendship is different from all the other people we've met lately.
Meeting people as a result of traveling in the Airstream has been very easy. The aluminum brotherhood seems to give us an instant camaraderie, which we've enjoyed. But without the Airstream to make our introductions, we have to make friends the old-fashioned way.
It's a little harder. People in the RV world are used to becoming very friendly very quickly. You don't have much time to sniff around when your new friend might pull out of the neighborhood in less than 24 hours. RV travelers seem to instinctively know this, and so they get right to the business of socializing as if you've been old friends for decades.
But in the "real world", people take their time. You might meet at the gym, the library or karate class several times and casually chat before someone breaks the ice. Inviting someone over for dinner within 10 minutes of meeting them for the first time would seem "overly friendly" or even inappropriate in those settings, yet in campgrounds it happens all the time.
There's something inherently friendly about the impromptu communities formed by groups of travel trailers. It doesn't matter if we are in a high-end "RV resort", a state park, or just boondocking in some lonely place. People just come up and talk and tell their stories as freely as can be. We're so accustomed to it that it feels unfriendly when we see strangers walking by our house and they don't stop in to chat — even though in polite suburban society that would be considered intrusive.
I think that's why I had been looking forward to meeting Rick & Judy. It was clear from our email conversation that they "got" it, and so we enjoyed a fast warm-up and a fun family dinner. And having our Airstream friends dropping by has been nice too. Brett was here, Bruno & Leila were here, Jim was supposed to come (but he decided to stay in Quartzsite), Bobby & Danine are coming, and pretty soon we'll see Dr. C too. All of those people know how to behave in "RV society": you just swing the door wide and treat everyone like family even if you just met them half an hour ago.
But we can't expect that of everyone. Don't get me wrong — our neighbors have been wonderful and we like them all. We now count Judy and Rick among our friends, which is a really neat thing for us. But I think we may have come here expecting the City of Tucson to be one big happy campground, and we have to remember that most other people live by the traditional rules of the city. We'll have to make an extra effort to be friendly and patient to make long-lasting friendships, until we get back on the road where the emotional juices flow a little more easily.
Uke song of the day: "Tonight You Belong To Me" by Billy Rose and Lee David. Popularized in the movie, "The Jerk." See it performed by Janet Klein (for key of D tuning) or get the chords for typical key of C tuning here.