I have to tell you, I absolutely LOVE having a full hookup camp site. It means I don't have to worry about things like taking a shower and washing the dinner dishes in the same evening because of the grey tank capacity. With water & electric only sites, we will use the showers at the park – if provided. I also tend to prepare "one pot" meals and use paper plates & bowls to minimize the dirty dish load. But with W/E/S I can let my culinary skills loose. Not just because I don't need to be concerned about the number of dirty pots, pans, & dishes, but because campgrounds that offer W/E/S are usually within or just on the outskirts of a major city. That means I can purchase local specialty foods and have a grand time cooking in the kitchen. With full hookup the Airstream truly is a house. (It's always a home.)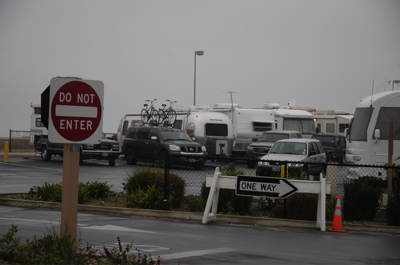 "Campsites" at Bolsa Chica State Beach, near Los Angeles
What I don't like are those "RV Resorts" (and I use this term as loosely as the proprietors of said places) that offer the amenities of full hookup at the expense of nature. There isn't a tree or shrub to be found and the closest thing to wildlife is the dog in the Class A 10 feet to the right. The goal of these "parks" is to cram as many RV's as possible onto an expanse of asphalt next to a major highway near a major city and then throw in a laundry and club house so it can be called a resort.

Is this a camping experience, or a resort? Neither.
Don't take what you just read in the wrong way. Some – albeit, too few – RV Resorts are what they claim to be – resorts. They offer restaurants, heated pools and spas, play areas for the children, some natural shade (though manicured and manipulated), a guest laundry, fitness center, gift shop and general store. They are basically a high end hotel where you provide your own "guest room".
The one we are at in Tucson offers all of the above plus patio furniture and a fruit bearing citrus tree at each of its 384 sites. Also a library, public restrooms & showers, propane grills, meeting rooms and a convention hall. The RV Resort we stayed at in Benbow, CA for Thanksgiving offered free WiFi, and its own 18 hole golf course. These are but two great places to stay with your Airstream if you desire what I call "the Ritz experience". It's obvious that for a lot of folks, this is exactly what they are looking for. But I don't need or want all that these real resorts have to offer.
What I desire is the convenience of W/E/S with the advantages of being in a natural setting. We have been to such places! There are some very lovely camping spots that offer full hookups and not at the expense of the trees. (not to sound like the Lorax) 🙂
Cherry Creek SP, CO offers full hookup and maintains an air of dignity. It is a great place to camp, with a huge playground, and a reservoir that allows swimming and boating. It has miles of walking and biking trails. Wildlife is abundant – we saw great horned owls, jack rabbits, mule deer, coyote, and magpie. All this in Denver!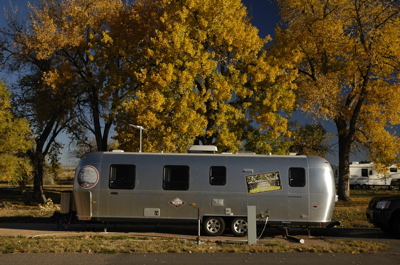 Full hookups at Cherry Creek State Park, Aurora CO
When we camped near Santa Barbara, CA at Carpinteria State Beach, our full hookup site was less than 50 feet from the ocean and even though we were parked on asphalt, we were also parked under trees. We had shade, the sound of the waves and a view of the water.
In Anza-Borrego Desert SP, CA the Palm Canyon campground is in the desert. There we had the benefit of evening Ranger talks, fabulous hiking, tons of wildlife including Big Horn Sheep and hummingbirds, and our full hookup site had palm trees, desert flowers, cactus and an incredible 360 degree view.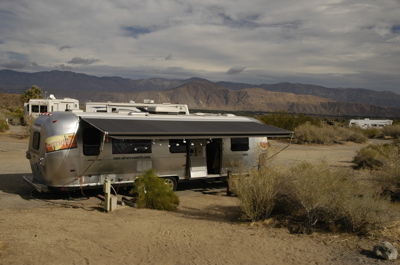 Full hookups at Anza-Borrego Desert State Park
Unfortunately, these fabulous campgrounds are few and far between. It is painful to acknowledge that more than not, the only full hookup campgrounds available are no more than a barren stretch of land with W/E/S. We have found ourselves in one or two of these places also, and having experienced both is why I think I abhor the latter so.
You see, I know we don't always have to give up the wonders that nature has to offer to be able to get the benefits that man can supply.