Before I get into White Sands National Monument, I should tell you about our friends Bert and Janie Gildart, since they will be traveling with us for the next week or two. They are authors and photographers who work as a team to research and write hiking and nature books. Most recently they have published several books in a series for Globe Pequot Press on things to do in certain national parks. Bert also writes for Airstream Life magazine.
It's great fun to travel with Bert and Janie because they are into hiking and photography (like us), and they seem to enjoy having Emma around. As I mentioned yesterday, they have a fairly new Airstream Safari 28 slide-out. They are parked just down the hill from us at Oliver Lee Memorial State Park.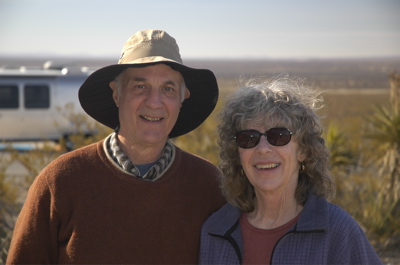 This is a nice state park, and it's a shame we are not going to get to explore it properly. Behind us is a line of ragged mountains with a canyon that is begging to be explored. Below us to the west is the wide-open expanse of the White Sands MIssile Range. The view is inspiring. This morning I watched pink light of sunrise illuminate the mountains 40 miles to the west, and slowly fill the valley's playas.
But instead of hiking here, we headed to White Sands. This park is basically a collection of huge dunes made entirely of gypsum sand. The sand blows southeasterly from nearby dry lakes, and without a river to wash it away, piles up. Normally gypsum is water-soluble, so gypsum sand is very rare. But here conditions are perfect for it to accumulate in marvelous heaps with textures and designs made by the wind.
After a little orientation at the Visitor's Center, we decided to go for the longest hike here, the 4.6 mile Alkali Flats route. Driving out on Dune Drive gives one the impression of driving on a frozen lake. The road and parking lots are graded white gypsum sand. The occasional buildings look like ice fishing shanties.
Hiking on the sand is difficult work. We were surprised that after an hour we had only managed to go one mile. But of course, we spent a lot of time paused to let Emma play in the sand. Every dune is a fantastic opportunity, for play (sliding down the dunes on a plastic sled is encouraged), animal track identification, and photos.
The hike took us over five hours to complete. By the time we got back, we were exhausted and my camera battery was dead. But I was satisfied with the photos I got, and I think Bert was as well. He shot several rolls during the hike. I've posted some photos on Flickr tonight if you want to check them. Click the link to the left that says "Pictures".
Emma earned another Junior Ranger certificate, her third. She's getting into it now. And we of course picked up another stamp in our National Parks Passport book. When I went to stamp the book, I was surprised to find we were last in White Sands National Monument on Feb 4 2000 — almost exactly six years ago. I hope we are back soon. There's a lot more to do in this area.