For the past month I've been opening the windows in the house to let the afternoon air seep in and warm up the cold stone floors and adobe blocks of the house. In February and early March there are so few insects in the air that not having screens was never a problem. Once in a while a fly would buzz in, look around, and buzz out again.
But now the desert is warming and the flowers are blooming. Bees are examining the blue flowers on the rosemary bushes, and the occasional "mosquito eater" wanders in and stays out of confusion. Last night Eleanor trapped a beautiful Painted Lady butterfly who was stuck in a ceiling light, and released it after Emma identified it in her butterfly book.
Our days are now consistently in the 80s and the nights are in the mid-50s, so the house is at last a comfortable 71 degrees throughout. This means we can start to leave windows open at night, too, to moderate the thermal mass of the house and keep the house from getting too warm. I put in the window screens and thought, not for the first time, that it would be nice to stay just another few weeks to enjoy the very best of Tucson's weather.
But that won't happen. We are still committed to our departure on Sunday, because we've got far too many things to do this spring and many people we want to visit.
So this morning I pulled the Airstream out of the carport past our temporary tenants (the Gildarts) and across town to the local Airstream dealer. I left it there to have the heat pump fixed, and four hours later I got a call that it was done. The problem turned out to be a bad circuit board. Dometic is replacing the board under warranty, but we have to pay for the labor. That's $200 to us.
In the big scheme of overall maintenance it's not a big deal. It has to cost something to stay on the road, and our annual expense has been about $2000, counting all repairs and scheduled maintenance. So far this year we have spent about $350, which for three months is not bad at all, but it's reflective of the fact that we haven't traveled much.
Being separated from the Airstream, even for a day, has been tougher than we expected. We took out all the daily things we thought we'd need, but then all day we were looking for items that inevitably turned out to still be in the trailer: a notepad, a particular knife, and birthday candles. Friday morning I'll go over and bring our first home back to our second home. It's clear we can't be separated from the Airstream for long.
The birthday candles were of course for Eleanor, whose birthday snuck up on us in the confusion of house projects, trying to get back on the road, and people coming and going. But it turned out for the best, since Adam and Susan arrived and with Bert and Janie it meant we had four of our best friends on hand for a party. It was just a wonderfully lucky coincidence.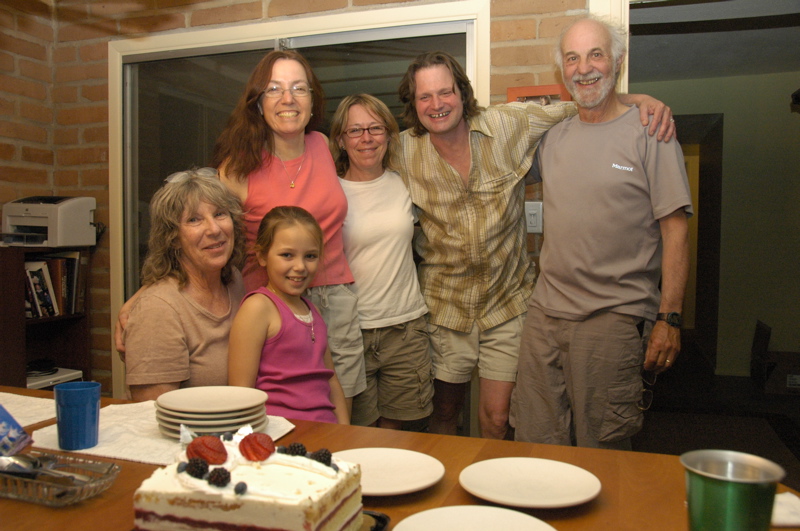 Emma and I made a card using some of the techniques taught to Emma by our friend Lou in Ohio. It featured a palm tree and a "slider" of a monkey, swinging from limb to limb. Eleanor got two bouquets of flowers, a bunch of kettle corn (not from me, even though I love the stuff), and a white chocolate/raspberry birthday cake. Bert & Janie bought pizza for everyone and we just hung out in the dining room and told stories of past adventures and past lives.
It was a good birthday party on a wonderful desert day in Tucson, in the middle of a great week. We'll look back on this day and remember it not for the money that the heat pump cost us, and not for the things in the house that still aren't right, but for the people who made it a great day by traveling hundreds or thousands of miles just to share it with us.