Our departure from Tucson was dramatic. We cleared the driveway and street in front of our house of all vehicles except the two Airstreams, then parked Adam & Susan's motorhome to the right, and David & Ariadna's Safari 28 slide-out (identical to Bert & Janie's) to the left. It's a good thing we have great neighbors who not only tolerated us but actually got a kick out of it.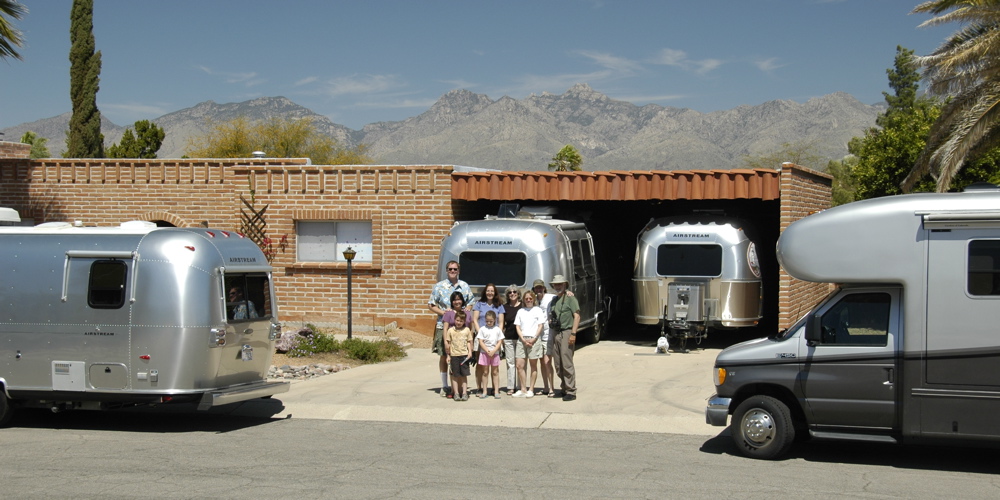 I was actually sorry to leave. The past few days have been terrifically fun with our friends, the weather has been spectacular, and the house is becoming very comfortable. Bert advised me that this was a good thing, because it meant I'd be happy to come back to home base. He's got a point there. Adam said the same thing in a different way, "We miss every place we leave. There are too many great places. It's a good problem to have."
The "loose caravan" style worked well for our drive down to Nogales, 79 miles away. Crossing the border was a non-event, as it was the last time we entered Mexico. They use a red/green light system, and once again we got the green light, which means "drive on through." The downtown border station is narrow and riddled with speedbumps so that you can only creep through at 5 MPH for a couple hundred yards. After that, we navigated the gauntlet of Nogales, dodging double-parked cars, slamming on the brakes for various obstacles (people, motorcycles, potholes), and hoping fervently that we made it through the town without any new scratches.
Once out of Nogales the drive is easy, even pleasant, and very scenic at times. We hung together, communicating by walkie-talkie, just because we weren't sure where we'd stop. Highway 15 is a four-lane divided route, but the roughness of it meant that most of the time we were unable to match the posted 100 kph (62 MPH) speed limit. Only toward Hermosillo did the road smooth out, but by then it was getting late and so we decided to stop here rather than press on to Bahia Kino. Our total trip time: 6.5 hours, including innumerable bathroom stops for the kids, border crossing, fuel stop, one organizational meeting, and one wrong turn. That's a lot of time to go about 250 miles, by US Interstate standards.
A tip for those coming down for the first time: bring lots of cash. The Pemex stations did not accept credit cards and ATM machines (el cajero automatico) were nowhere to be found. Also, to get to Hermosillo we passed through two tollbooths (cuotas) which totaled 156 pesos (about US$15). The campground here in Hermosillo also accepts only cash (US$20), so I ran through about US$100 in no time at all. Tomorrow I'll find an ATM and get a pile of pesos out.
Tonight all three Airstreams are parked in a small (10-site) campground just off Rt 15 in Hermosillo. We can hear the highway, but the sites are modern, the utilities work just fine, and the wi-fi works. For $20 we're all satisfied with it.
It looks like wi-fi will be the salvation of this blog. It's very common in campgrounds here, probably because Americans really like it. It certainly gets my attention when the campground says "wi-fi", even though I'm accustomed to it not working in the US campgrounds. Tomorrow we'll head about 70 miles over to Bahia Kino and if we have wi-fi there, the blog will get updated.