So far we like Bahia Kino. The road to here is hard to find at the moment due to a badly-marked construction detour in Hermosillo, and we apparently just missed a horrible invasion of college students on spring break, but right now Bahia Kino seems worth a visit.
Our campground, the Islandia, is older but has more character than the ones down the strip in "Nuevo Kino." We are in the old town, on the beach but a short walk from all that Kino has to offer, which is not much. There's a place for agua purificada, a Super Mercado, a Telcel outlet, a Pemex station (fuel), a park, a bakery, and a sidewalk bar that sells frozen treats.
The campground is landscaped with palm trees and little bushes, with birds twittering and the sound of the sea surf just a couple hundred feet away from our campsites. We found three sites together in the center of the park and cobbled together enough of the services to get all of us hooked up. For the three of us there are two 30-amp electrical outlets, 2 water spouts from which extremely low pressure water dribbles out, and three sewer holes.
There are also a couple of 15-amp outlets but our electrical testers revealed an open ground on those, so we've piggybacked David & Ari's trailer onto ours instead. We haven't bothered to connect to the water, favoring our fresh water tanks instead, and are using the outdoor showers a short distance away. The campground doesn't seem to advertise wi-fi, but it is here anyway, and it works inside the Airstream. (However, I can only receive email — I can't send, at least not yet.) For all this, we are paying $18 per night, relatively cheap.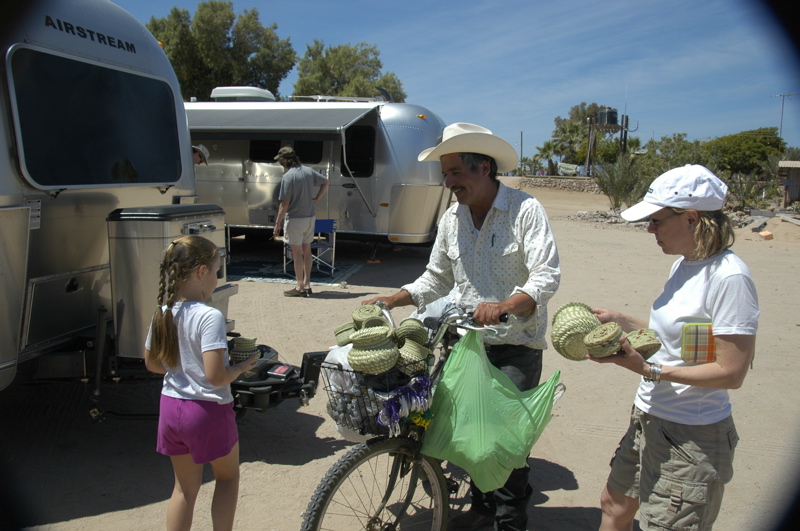 It doesn't take long after arriving for the vendors to show up. The first guy on a bicycle was selling handwoven baskets made by native Indians. He was pretty successful, selling both Eleanor and Susan a couple of baskets at about $4-8 each.
After getting settled in our first task was to get pesos and fuel. The ATM machine will give up to 3,000 pesos at a time, and since virtually everything here is cash only, including fuel, I went for the max. Filling up the Armada swallowed over 600 pesos right away.
We wandered the quiet, dusty streets of Kino for a while, just to see what there was. Ari and I headed over to the Telcel store to get my pre-pay phone activated. It turns out that it was already set, except that calling to the USA was blocked. To get it unblocked, I had to provide my name, address, and age — for reasons unknown to all. Without Ari as translator I would have never gotten it done.
I don't plan to make any calls to the US except in case of emergency, since the cost is roughly US$2 per minute. I believe that incoming callers would see a nasty surcharge on their bill, too. The best way to call home is to use a calling card from a pay phone, or to drop in on one of the streetfront telephone stores which offer discount rates. Given that we have good Internet in the park, I could also use Skype.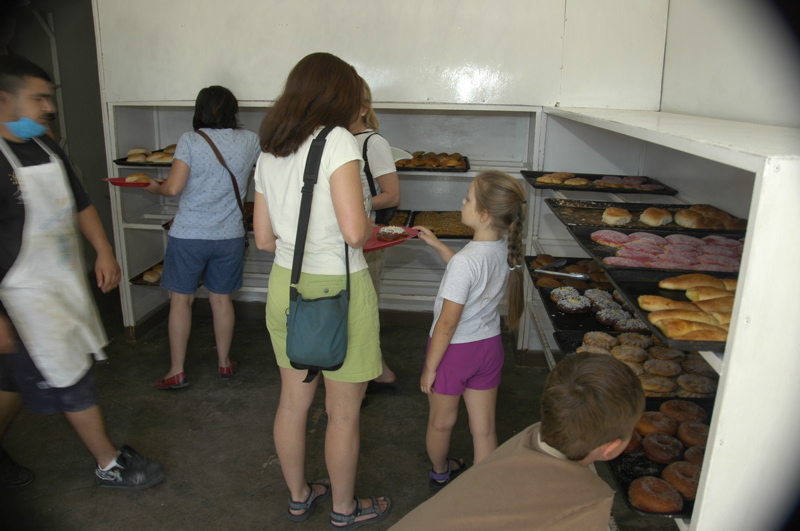 The bakery downtown was a nice find. We always have a soft spot for fresh baked goods. We picked out a few goodies and then across the street Eleanor and David were enticed by a guy selling fresh scallops out of the trunk of his car. In the USA this would be bad news, but here it's pretty typical. The scallops had been harvested this morning. We bought a kilo (2.2 lbs) for dinner. The seller also insisted that Eleanor and David try a raw scallop, which was perhaps not the wisest thing to do, but to be polite they both nibbled the scallop and pronounced it delicious. I snapped a picture of David trying the scallop which I was going to entitle, "The moment you got sick," but fortunately he didn't.
Buying fresh stuff is fun and easy here. Wandering down the beach, Eleanor and Ari found that the fisherman had just come in with lots of some unidentified fish. Not knowing what it was, they brought the kids over to see the process of fish being filet'd, and bought a bunch of that too.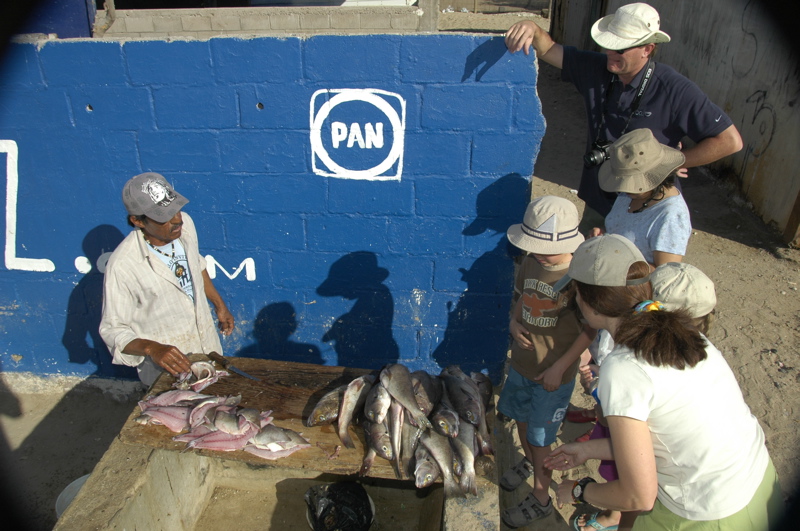 So the kids had "something fish" for dinner, and we had scallops with a sauce Eleanor whipped up, and everyone had squash with onions, and treats from the bakery for dessert.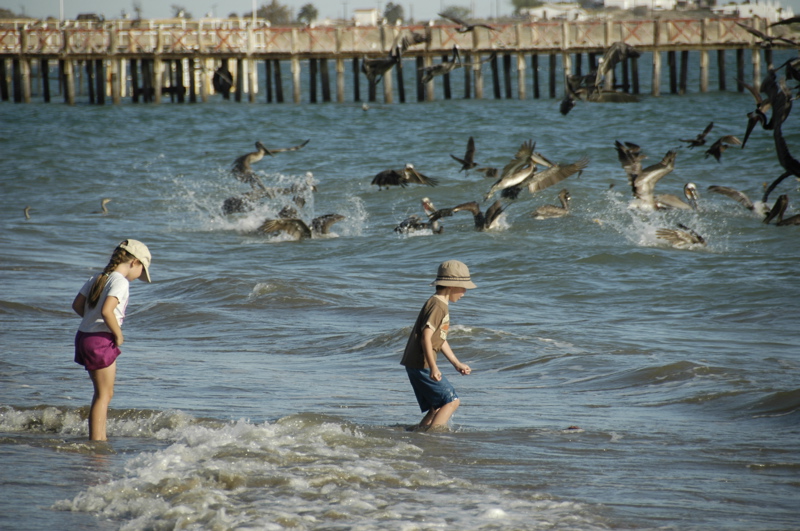 Our presence seems to be attracting curious passers-by, or perhaps people are just friendly. We've been visited by a vacationing 4th grade teacher from Santa Fe, an old lady collecting cans (she sat down with us and had a long conversation in Spanish with Ari), and a couple of vendors. Everyone, including people we randomly encountered in town, has been enormously friendly and pleasant. They are all town boosters, assuring us that there is no point in going on to San Carlos (because the beach is rocky there), and that everything we could possibly want is in Bahia Kino.
They are winning us over, because we are already unwinding and settling in. It looks like the group may vote to stay here all week, just walking the beach and watching the pelicans, and relaxing under the awnings with a book.