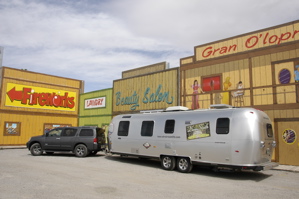 We made it to Balmorhea State Park in west Texas, and that's the good news. It's 80 degrees here at 7:30 pm Central Time, and the trailer is rocking in the extraordinary strong winds.
We combated occasional dust storms from Las Cruces to here. At times, the dust threatened to become a hazard to visibility, but mostly it was just enough to cause us to keep the truck air on "recirculate" and the air conditioning running. However, I'll be checking the engine's air filter at the next opportunity.
The real story of the day is not the fiercely blowing dust and flying tumbleweeds we saw, but what I hope to be the final chapter in the ongoing tire saga. I had been watching one of our tires carefully the past couple of trips, thinking that perhaps I was seeing yet another broken belt or separating tread, but not quite sure. The tell-tale sign is a slight bulging, or a roundness to the surface of the tread's cross-section where it should be flat.
Today at a fuel stop in Van Horn TX I noticed the tire had suddenly gained a distinct bulging spot near the edge, and the tread in that spot was wearing extremely rapidly — noticeably more than it was just a few hours earlier. There was no mistaking it. The tire was a goner.
At 4:30 in the afternoon in a small town in west Texas, I did not have high hopes for a quick resolution, but we were lucky this time. Two miles away was a one-man tire shop, and the amiable owner not only had the proper tire in stock, but he had it at a good price and was able to mount it up in about 15 minutes. He was extremely polite, gave me no argument when I said I wanted to re-install the wheel myself (my usual practice), and charged just $5 for his service.
At this point I had replaced three of the four tires on the Airstream in the past month. So I took a careful look at the remaining tire, and guess what? Yep, a two-foot section of tread was bulging slightly. 3/4 of the tire was properly flat across the surface, and 1/4 was rounded like a turtle shell. So our record was perfect — all four tires. Three belt or tread separations, and one irreparable flat.
Since the price, service, and availability were all ideal, and since we were at the start of a 2,000 mile journey, including several hundred miles of desert running at 70 MPH through lonely parts of Texas, I decided to just get it over with and replace that last tire too.
So why have all these tires been failing? Well, I have been researching that a lot over the past few weeks. Without getting into a lot of detail, I have narrowed the suspects down to one. There's only one thing that makes trailer tires fail that has happened to all four tires. Last summer our axles were badly out of alignment (as much as 7/8″ of an inch on some measurements). We had this corrected in September at the Airstream factory, but the damage was already done to the tires. It was only a matter of time before they started to show how traumatized they were by being dragged down the road at incorrect angles.
The evidence was on all four tires: "feathered" tread wear. The tread should wear perfectly flat and evenly, but running a hand over these tires last fall felt like a stroking a cheese grater. At the time I didn't realize what this meant, but in the few months since the effect has been clear enough. The first tread failure happened before the alignment but I didn't replace it until October when something was obviously wrong. The second tread failure showed up last month, and the third one showed up today.
If my theory is correct, we should experience nice even tire wear on these new tires, and NO more belt/tread failures, since the axles are aligned properly now. I'll be watching. Incidentally, at this point we have two Power Kings, one Goodyear Marathon, and one Green Ball Trailermaster. Given that the belt failures have happened to three different brands of tires that were on the trailer, I can't rest the blame on any particular manufacturer. My suspicion is that any trailer tire would have suffered serious damage under the condition of mis-aligned axles.
The last alignment cost over $200 but I am thinking it may become an annual or bi-annual part of our regular maintenance program. It's certainly cheaper than replacing tires before their time …
Now, you may have noticed that despite several tire failures, we have never had a blowout (knock on wood). I don't think this is a coincidence. Blowouts are often the result of poor maintenance. Run your tires with less air than they need, fail to check them carefully and regularly, and you will have a blowout sooner or later. When a tire blows, it will often take expensive chunks of your trailer with it.
I'm amazed at how many trailer owners I have met who have blowout after blowout, but still run on old tires, fail to check tire pressure, don't weigh their trailer, have never gotten an axle alignment, and never look at their tires. Learn proper tire maintenance, and learn the signs of improper wear and you may avoid a dangerous blowout. Equally importantly, when you see the signs of a pending problem like we did today, replace the tires before they fail. It's just like replacing your brake pads before you can't stop anymore.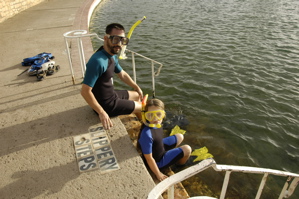 Having bought two new tires, we proceeded to Balmorhea State Park for our overnight stop. We've been here before. It's one of two nice places to stop on the way to Big Bend National Park from the west, the other being Davis Mountains State Park. We chose Balmorhea because we really wanted to go snorkeling and because we can get online with our Verizon card here, albeit slowly.
The water in the spring-fed pool here is always 72-76 degrees, ideal for the air temperatures of about 80-85 this evening. We watched the fat black catfish, turtles, ducks swimming underwater like penguins, and schools of innumerable two-inch fish that followed us around like a cloud of mosquitoes. It was a nice change from the day of dusty, windy driving and tire-changing. For the next few months, I hope I can focus on the fun stuff like that and have no more blog entries about tires…
Our coordinates tonight: 30 °56'39.53″N 103 °47'1.63″W
Tomorrow and the next day I may not be able to blog. We're going into Big Bend National Park and getting online there is a real challenge. If so, I'll backdate a few entries once we have connectivity again.