Coming out of Big Bend I am always reminded of why visitation in the park is not as high as more northern parks. Big Bend is on the way to nowhere, since it borders Mexico and there are no roads across the border there. You have to detour at least 100 miles to get there, and coming out on Rt 385 back to Rt 90 or I-10 involves a couple of hours of driving through a lot of empty desert.
Once we reached Ft Stockton at I-10, around lunchtime, I was pleased to find that my theory about the magazine being somewhat more self-sufficient had held true. I had only two voice mail messages, and neither were business-related. But I didn't bother to open up the laptop and check email just yet, because I knew I'd have an onslaught of at least a a hundred emails, and probably more.
On I-10 in west Texas the speed limit runs between 80 and 85 MPH (70 -75 for trucks) during the day. It's tempting to try to tow the Airstream that fast, but there are several good reasons not to. First off, the trailer tire manufacturers recommend limiting speed to 65 MPH. Given all our tire problems lately, I am heeding their advice. The prospect of a blowout still scares me. Second, our fuel economy plummets. At 72 MPH, we burn about 35% more fuel than we do at 65 MPH, and even with all 305 horses pulling hard, the Armada has to downshift frequently to third gear to maintain that speed on hills.
A third reason used to be that the combined rig didn't handle well at high speed, but that's no longer true. When we first started tow without the Hensley hitch, 64 MPH was our maximum speed and 59 MPH was max in any sort of wind. With the Hensley we can go as fast as we want with superb handling at all times, but I still prefer to keep it at 65 MPH or less for fuel economy.
Speaking of fuel economy, we paid $3.89 for a gallon of fuel at Rio Grande Village. I'd rather get 10 miles out of that gallon (cost per mile: 39 cents) than 8 miles (cost per mile: 48 cents). When you realize that going 72 MPH saves us 27 minutes on a 300 mile trip (versus going 65 MPH) but costs us $27 more, the choice is pretty obvious.
South Llano River State Park is a fine place to camp, with big grassy campsites and lots of shade trees, but I found no usable Verizon signal here, which meant my phone and Internet connection were inoperable. There's no wifi to be found either. A neighboring Airstream owner, Sharon, came by and said she's been using the library's wifi in town. She's been here for two weeks waiting for parts to arrive for her late-model 20-foot Safari, which was damaged on the way here.
Sharon's predicament brings up a cautionary note. The Garmin GPS that we and many others use is a great tool "" most of the time. But you have to sanity-check it, especially when getting off the highway and going to state parks. The GPS is programmed so that it will choose either the quickest (time) or shortest (mileage) route. This means it will send you down a bumpy dirt road over a one-lane bridge if it calculates that this will shave 10 feet or 10 seconds off your overall trip.
That's what it did to Sharon. Her GPS said to turn left, and she found herself facing a dead-end that wasn't in the GPS database "¦ at night "¦ with no one in the truck to help her. She tried to back up in the dark alone and met a tree, which left her with $12,000 worth of aluminum damage and an enforced two-week stay here at South Llano River State Park.
The best strategy is to ignore your GPS when you start seeing the brown state park signs. Those signs will bring you in the best possible way. Don't trust "Garminita" when she tells you to take a suspicious-looking left down a one-lane road. She's a handy navigator but she doesn't know you're driving a long tall rig that can't turn around on a dime.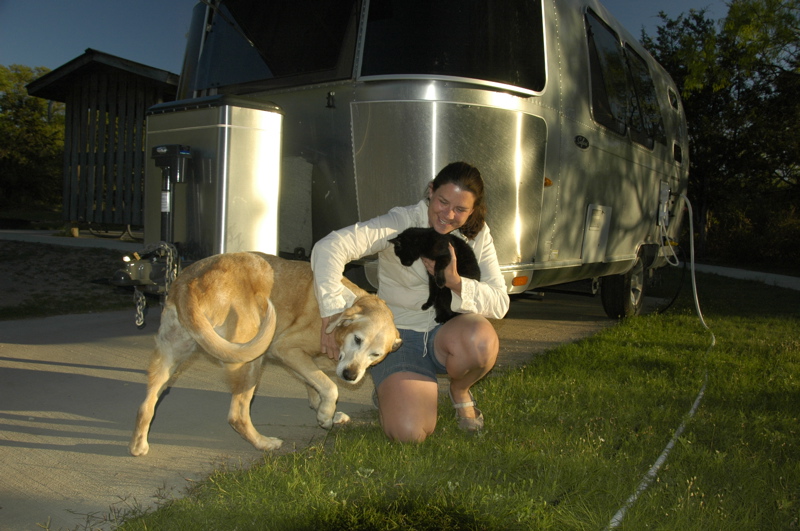 Two weeks of intervening time has given poor Sharon a chance to get over her disaster, and she's been enjoying the peacefulness of the park while she works remotely on magazine designs for her clients. Since she's a portable professional like me, the time has been useful and frankly there are a lot worse places to be "stuck" for two weeks than South Llano River State Park.
For us, however, a move is imminent. I need to spend some heavy time finalizing details for the Summer magazine. It is heading to the printer tomorrow. That means we will move to somewhere that I can get online for a few days.
On Wednesday we will arrive in a favorite spot, Pecan Grove in Austin, for at least two nights. This shady little oasis in the heart of Austin is one of the few urban campgrounds left. I'm hoping some of our friends in the Austin area will come out to meet us there.