Pecan Grove RV Park is a nearly legendary place in Austin these days. It has been described to me as "the place the hippies used to hang out," but now it is a funky oasis in the midst of the town that wants to keep itself weird. (That's what the t-shirts say: Keep Austin Weird.)
There are at least a dozen Airstreams here, and several Avions as well. Most of the residents seem permanent, or at least seasonal, and there's a very friendly vibe about the place. I am sure we will like being here, especially now that the weather has improved.
I have done some more research on the bike thing, and it seems clear that we are safe with a bike rack / receiver hitch mount on the rear. Our loaded weight will be well within what the chassis can withstand, and really it won't be much more than many people put in their bumper storage compartments.
Some people go a bit further with their frame mounted equipment. Here's one I spotted recently. I wonder if the owner has trouble towing it in traffic?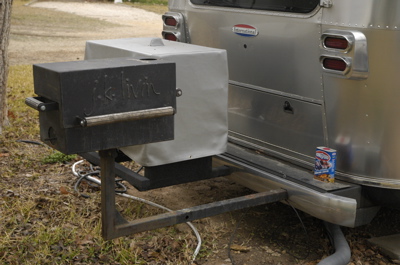 And you were worried about a bike rack?
Tomorrow we're going to look up an old friend of mine who relocated here years ago, and of course in the evening we will have dinner at the Salt Lick BBQ with a gang of Airstreamers. By the way, the Salt Lick calls itself "The last bit of Texas in Austin." Sounds promising.