I'm finally getting to post at a grocery stop near Lumberton NC … there was no cell service in the state park campground. They did have wifi at the Visitor's Center but I was too wiped out yesterday to make use of it.
Is it the humidity? I'm not sure, but after our day at Congaree National Park (about 35 miles north), we were all collapsing. We only hiked 2.4 miles on the boardwalks, so I can't claim it was the exercise.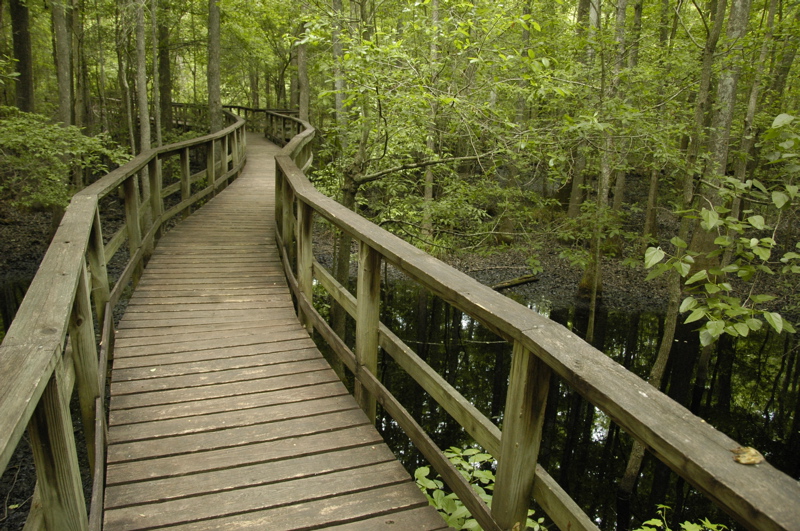 Congaree is a really "different" type of national park. At first glance, it's a swamp. But there's a lot more to it than that. It's really a forest that floods about 10 times a year, and that regular flooding inspires an amazing diversity of creatures and plants. The trees are very tall — a fact of which the Visitor Center displays, brochures, and movie all tout extensively — and it has a canopy like a rain forest, so it's dim and humid down below.
In our little 2.4 mile walk we managed to spot three different types of skink, some very pretty damsel flies, a barred owl (photo below), a snake we haven't yet identified, and lots of other insects. Especially mosquitoes. This is the only national park we've ever seen with an official "mosquito meter." Fortunately, the buggers were only "mild" by my estimation, and we brought deet along. I wouldn't want to be here when the meter reads 5 or 6.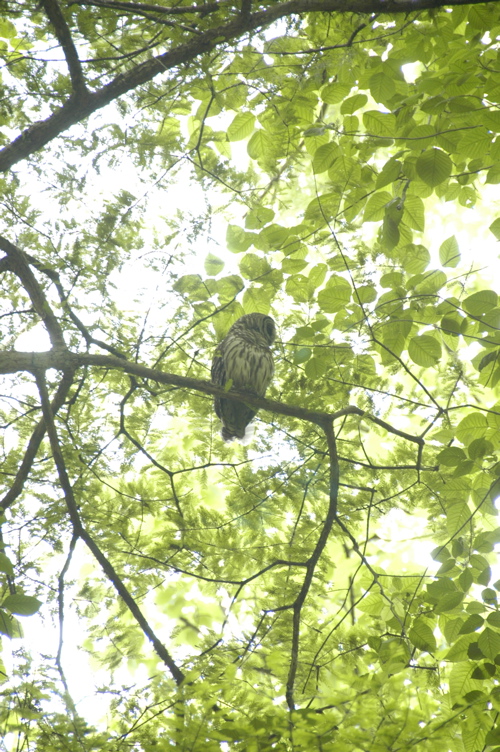 There are a lot of other trails in the park, and in the right kind of weather I could see hiking all of them. You are free to go off-trail in this park as well, but the rangers advise bringing a compass since it is easy to get lost among the tall trees and featureless mud. For our part, doing the Junior Ranger program (badge #33) and stopping many, many times to examine bugs and such kept us in the park for about four hours.
This morning thunderstorms invaded South Carolina, and we were awoken at 5 a.m. by the sounds of heavy raindrops pounding on the aluminum roof and the plastic vent domes. It's like having a gang of monkeys on tympani up in the trees, a noise designed to wake you up.
It's a sound we haven't heard in a long time. As I lay in bed thinking about it, I could see how drastically this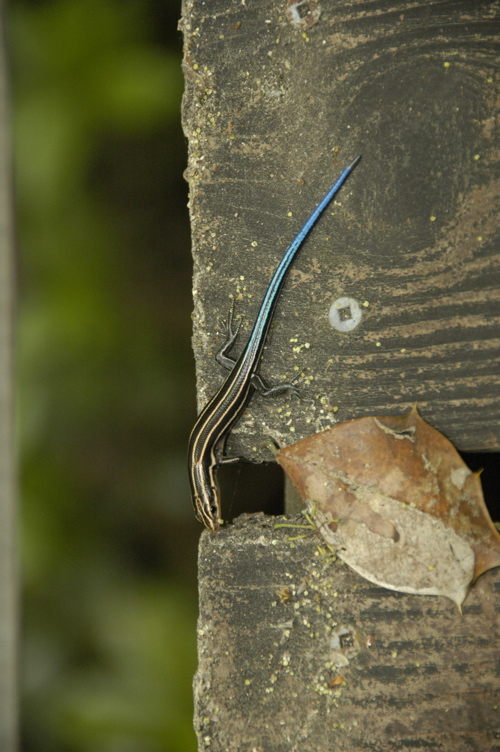 changed my plan for the day. We were going to cover 300 miles today and position ourselves for an early-morning ferry ride to Ocracoke NC on Monday morning. At this writing we are in the clear, between rain bands, but expecting more tonight and tomorrow thanks to a giant low centered over Indiana.
With rain, everything slows down. Disconnecting the utilities in the rain, visiting the dump station in the rain, towing on I-95 in the rain "" all of these things take more time. We will have to set our goals a little lower, and possibly get up earlier on Monday to make up for it if we have to pause later today.