Cedar Island NC is just 50 miles from where we narrowly avoided tornadoes last night. We crossed lots of little bridges from one shallow island to another, and eleven miles of salt marsh, to arrive at the Cedar Island ferry dock.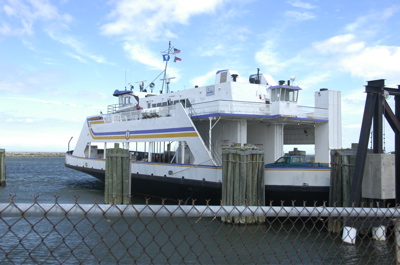 The low pressure system that brought us the thunderstorms last night is exiting with a parting gift: gale-force winds that have whipped the normally placid Pamlico Sound into a tempest. Since the ferry to Ocracoke has to cross 22 miles of this water, we knew that our 2 pm reservation was in serious jeopardy, but we figured we'd come out anyway and see.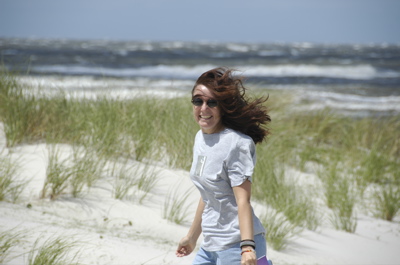 It was even windier than I expected. Just waiting in the line, the Airstream is rocking in the wind, and the wind is getting worse. Officially the ferry cancels if the winds in the Sound exceed 45 knots, and so far they have canceled the noon, 2 pm, and 5 pm ferries. I bought Bonine (seasickness medicine) at Wal-Mart last night, preparing to "tough it out" if the ferry was running, but I won't get a chance to try it today.
When we arrived there were about half a dozen vehicles parked in the standby area, all with very glum-looking people sitting in them. It turns out they had good reason to look that way. The nearest alternative ferry to the Outer Banks is about six hours' drive from here. They had the difficult choice of waiting 2-3 more hours to see if the next ferry would be canceled, or starting a very long drive and arriving at midnight, if at all.
On the other hand, we are in fine shape. We have no reservations on the island (a case of our "no reservations" policy working for us), and we are in our Airstream with all the comforts of home. In fact, we are home. So we dropped the tongue jack and the four stabilizers to reduce the rocking, and set to the ordinary tasks of our day, such as making lunch.
We are actually pretty comfortable despite the tremendous winds. We had bought a chocolate cake last night to celebrate Mother's Day with Eleanor (a Mother's Day which will live in infamy thanks to that near-miss by a tornado) and since we didn't get a chance to eat it, we broke it out for a post-lunch treat. My phone works fine, and I'm able to get online and do some work.
We're also making good use of our solar panels. The sky is studded with cumulus clouds whipping by, and between clouds we are making enough power to fully recharge the trailer's batteries, and run my laptop as well. Since the campgrounds we are heading to don't have hookups, we expect to be on solar power for as long as a week, so this is a good start.
Now we have a reservation for the 2 pm ferry on Tuesday, but from the marine weather report it looks unlikely that we will actually go anywhere. We may well be parked here until Wednesday, when the wind is finally forecast to calm. That may seem tedious but it beats driving six hours to try to get another ferry, especially when I'm sitting here eating chocolate cake and surfing the web.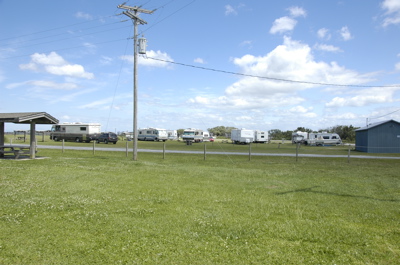 It seems likely we will be able to stay parked in line overnight, but if someone asks us to move along, there is a campground adjacent. The campground is one of those afterthought parks attached to a motel, with a couple of dozen spots featuring water & electric, six or so with full hookups, and nothing else. You pick a spot and then register at the motel.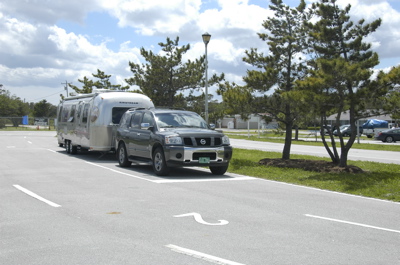 We'd get one, but the handful of full-hookup sites are taken and there's no dump station. We already have water and electric, and really the only reason we'd go to the campground would be to empty our holding tanks in preparation for more boondocking on the Outer Banks.
This spot reminds me of an article which appears in the Summer 2008 issue of Airstream Life (which is already in the mail to you — I promise!). Tom Palesch wrote a nice piece about what he calls "Big Water Camping," meaning camping at marinas where ocean-going vessels come to call. It turns out you can do it at a lot of places around the Great Lakes. We're getting a version of that right now, camping near the ferry dock. There are big boats, a visitor's center, a post office, a motel with restaurant, and a tremendous view of salty waves frothing just beyond.
So we'll stay right here and see if we get a lucky break in the weather. In the meantime, we've got a free waterview campsite for the day, and there's plenty of chocolate cake.
Our coordinates: 35 ° 1'1.26″N 76 °18'56.05″W