Our next scheduled appointment is the Tuesday after Memorial Day, at Colonial Airstream in New Jersey. The plan is to stop there for a few days to get some service done, so if anyone wants to drop by, send me a note. Otherwise, I'll have to fill the days by working at the computer, which is to be avoided at all costs.
In the meantime we have a week to get to Lakewood NJ and no particular obligations until then. We could have extended our visit to the Outer Banks but the mosquitoes were getting aggressive. Emma had a small reaction to insect bites and one of her feet swelled, along with a spot on her arm. So we spent some time in the morning to say goodbye to our friends the Hallingers, and they gave us some strawberries as a parting gift. Then we started towing north with no set destination.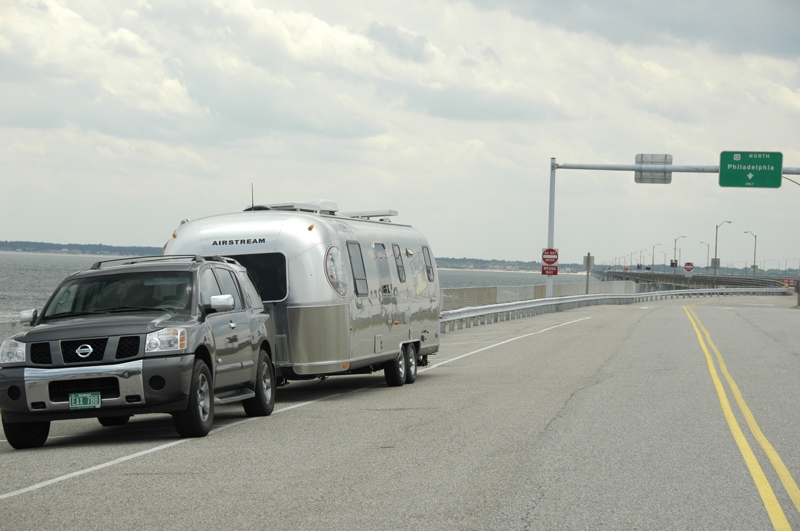 When we have extra time, we slow down and try to travel no more than 150 miles on travel days. This is mostly a strategy to allow us to see more than just roadways, but it also serves to spread out the cost of travel, which is especially important lately.
This meant we just got across the Chesapeake Bay Bridge-Tunnel and then picked a place to stop, the tongue-twisting Kiptopeke State Park.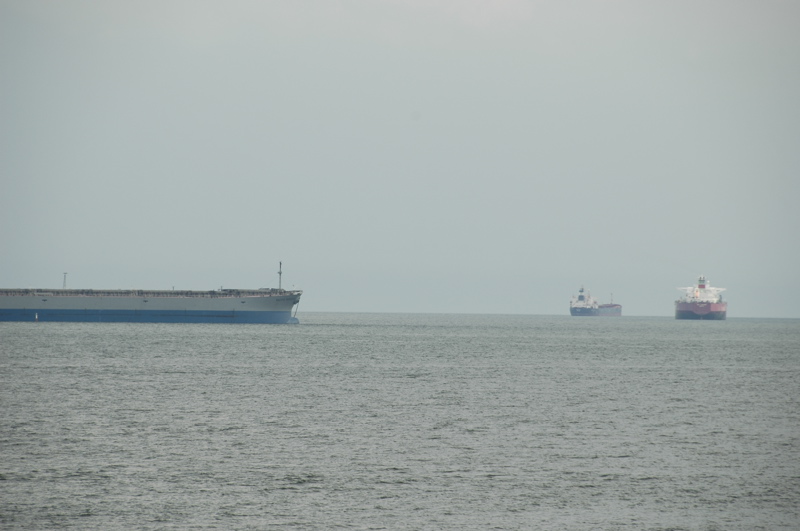 The Bridge-Tunnel is an amazing thing, and even having crossed it two or three times, I am still fascinated with it. Stopping on the man-made islands and watching giant freighters float serenely over the submerged tunnel spurs my imagination. It seems impossible that the tunnel can exist with all that water and hundreds of tons of steel ship atop it. Then I think about the nuclear submarines that ply these waters, perhaps traveling by as I watch, but unseen by eye or satellite. And then we drive through the tunnel …
Just three miles south of Kiptopeke is the Eastern Shore National Wildlife Refuge. The visitor center for this refuge is well worth a stop next time you are cruising up or down Rt 13 on the eastern shore. Not only is it a top-notch visitor center with excellent exhibits, but it features a very cool indoor bird-watching room with binoculars and spotting scopes supplied. There's even a live TV feed from the nest of a pair of ospreys with two chicks, which was fascinating. I've never seen such a good NWR visitor center before, and hardly anyone was there when we visited.
Setting up here at Kiptopeke, I was struck by two things. First, the park has the appearance of once having been a private campground. Every site has full hookup, but you have the choice of using the sewer connection or not. If you use the sewer, it's $5 extra. Every site also has cable TV, which is unheard-of in most state parks. Whoa, the luxury. After ten days of zero hookups (eight in the Outer Banks and two nights prior), it's a real adjustment. But then, it's $31.50 per night.
Second, there's no wind today. This is the first time in nine days that we haven't had a stiff breeze. I can open the dinette window again (the glass could not be opened earlier because the wind kept it pressed tightly against the frame). I could put out the awning if I wanted. I can even have a conversation on the telephone outside. The wind was invigorating and at times, even thrilling, but there's something to be said for a calm day too.
Emma works on a clay "pinch pot" project
Tonight we will feast, because Eleanor wants to make room in the freezer for tomorrow's stop at The Great Machipongo Clam Shack. Ribs, cornbread, and strawberry pie. It seems like summer is here at last.
Our coordinates: 37 °10'32.30″N 75 °59'2.24″W