Our trek northward continues, but as we get closer to our destination, our rate of travel seems to be slowing. I don't think this is because we don't want to arrive, it's just that we keep finding things to do. And since Emma is now up in Vermont with her grandparents, there is much less pressure for us to arrive. Let's face it, everyone wants to see Emma, and we are just the follow-up act.
… which is actually nice for us, because this way Eleanor and I are getting some time alone together in the Airstream (a rarity). We have lots of time to talk, but also plenty of long quiet pauses to gather our thoughts. There are many things to think about: our plans for the summer, our trip west, things to do on the house when we get back. By the time we get to Vermont we'll have a lot of stuff worked out.

The hitch people solved the problem that baffled the Nissan dealer, and did it in about an hour. The little squeak that started all this is gone. The hitch is now well attached with two new bolts up front, and they even gave me the old bolts back. As we deduced, the nuts that were originally attached to the frame had broken free, and once the bolt worked loose, there was no way to tighten it. I would recommend that anyone who has a Nissan Titan or Armada used for a lot of towing should check the bolt torque periodically to avoid this problem.
With that resolved, it was time to pull out of Colonial Airstream's lot and get moving north. I was dreading the trip up the Garden State Parkway, but it turned out to be a light traffic day and so I didn't have to do the usual suburban beltway dodge-em. We moved about 160 miles north to Mills-Norrie State Park in New York, near Hyde Park.
As state park campgrounds go, this one is pretty rough. The roads in the park are riddled with huge potholes, and the camp sites are just rough clearings in the forest. It is perhaps a typical old New England state park campground, but we've gotten used to the better ones in other parts of the country, with niceties like level gravel pads.
Turns in the campground are very tight and in some places impossible for our 30 footer, so we had to get creative to get into our site. After some head-scratching, we pulled around and drove across another site to do a pull-through. Eleanor had to hold back some tree branches, but we finally got in without damage.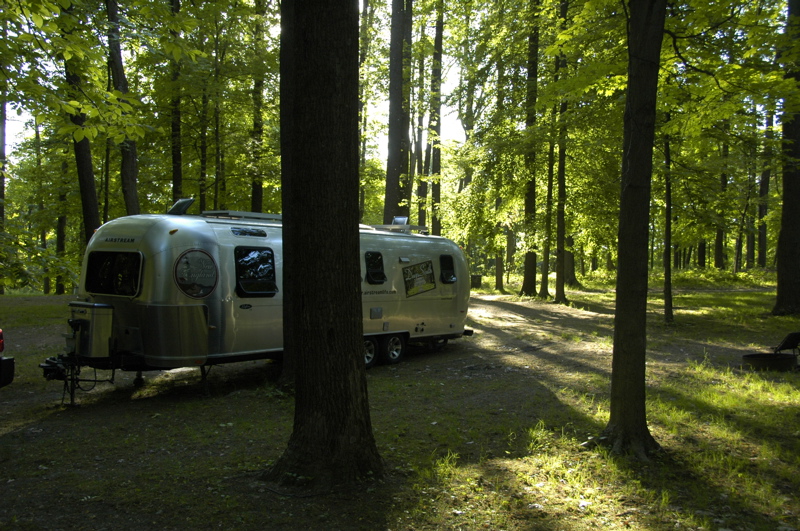 Our site is extremely un-level, as are most of the sites in this park. We got the trailer almost level but had to use the full extension of the tongue jack and all of our leveling blocks on one side. I also had to put a rock under the front right stabilizer because it couldn't reach the ground.
There are no hookups, but we knew that coming in. The surprise was that we are in a forest, so heavily shaded that we will be lucky if our solar panels see the sun for even two hours per day. Fortunately, with four batteries and some reasonable rationing, I think we'll be fine. The only real issue is the furnace, but with nights running in the upper 40s it should not have to run too much. (I wish we had our catalytic heater installed, but that may not happen until we get to Jackson Center OH in August.)
Despite the hassle of getting parked, now that we are settled in, I can see that the campground is nice and quiet, reasonably scenic, and the mosquitoes are not a problem during the daylight hours. With good friends camped nearby I expect we'll have a nice time, and those will be provided tomorrow night. We've invited our friends from Connecticut, Rick and Sandi, to come out and join us for the weekend. They're coming with their 23-foot Airstream. We haven't seen them since we went caving in upstate NY last September.
Our coordinates: 41 °50'17.60″N 73 °56'34.50″W