We've arrived at Saratoga Spa State Park, site of the Vintage Trailer Jam this week. As always seems to happen when I've got a major event to attend, we had a glitch before departing. The trailer was hitched up and ready to roll at 8:15 this morning, but the Prodigy brake controller reported "N.C." which means "no connection" to the trailer brakes.
We tried the obvious things, and determined that the trailer brakes were working fine, and the problem was in the truck. Since we just came out of the Nissan dealership the day before, and they were working on the trailer wiring, we assumed they'd mixed up something. So we unhitched and drove up to the dealership again, where they tested everything and could find no problem.
After an hour of that we gave up on the dealer and drove over to the local RV shop, where they understand brake controllers. Pete's RV hooked up a testing unit and saw the problem, and in less than 10 minutes had it diagnosed as a bad 7-way plug on the truck. The factory-installed plug has seen three years of heavy use, and has been connected and disconnected hundreds of times. Something inside a sealed module seemed to have worn out, and it wasn't serviceable. The tech at Pete's popped in a new plug and we were good to go again. Minimum service charge plus parts: $65. By 11 a.m. we were on the road with the Airstream right behind us.
After the refrigerator failure, the turn/brake indicator failure, and the 7-way plug failure, I was starting to wonder if we'd make it to Saratoga at all, but we did, even through heavy rainshowers along I-87. By the way, the front compartment repair done in May by Colonial Airstream's service department has been proven successful. After towing in heavy rain the compartment was snug and dry.
Today is probably going to be the worst weather day of the week. The humidity flirted with 100% (meaning a hot fog formed in some spots nearby) and with partial sun beating down on us while we walked the grounds to mark parking spots. Tomorrow a cold front is supposed to come through and bring us sunny and much drier air, which will be extremely welcome.
In addition to Brett and myself, Colin Hyde, Hunt Jones, and Don Collimore were here to get the pre-event jobs done. We all sweated and guzzled water and wandered around the field trying to figure out how exactly 83 trailers are going to manage to get parked on level ground, reach the power lines, and depart later without crunching into each other or falling in one of the many massive gopher holes that dot the field. Colin had made a plan months ago but there were significant logistical barriers he had not accounted for (a couple of large muddy spots, low overhanging branches, etc). It was not the finest hour of any of our lives but we did manage to get it all worked out. I hope.
We'll find out tomorrow when 38 trailers are expected to arrive. Those are our "early birds," many of whom are also volunteering to help with the rest of the Jam. With their help we might even survive this thing. It's a good thing that many of them are friends from previous Airstream rallies. They're more forgiving.

This evening after we'd done what we could to get ready, we pulled my Airstream and Colin's over to the official site and parked ourselves in two of the most difficult spots. We'll be the last ones out, so it makes sense for us to take the most "buried" spots. Once the other trailers arrive we won't be able to leave. We even set up awnings and broke out a generator for some air conditioning. That's Colin wrestling with his vintage awning at right.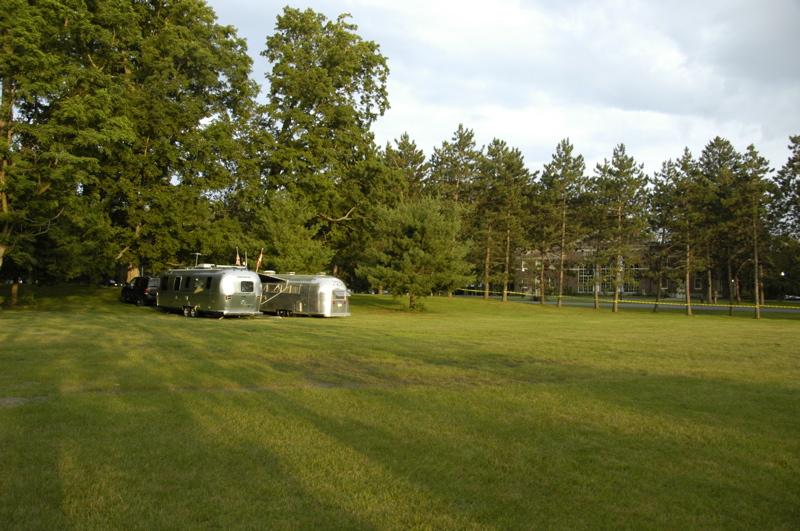 The last minor issue of the day was the arrival of the NY State Park Police, who apparently didn't get the memo that we were going to be camped here. Fortunately the officer was willing to listen to Colin's explanation and didn't pursue it any further than asking some questions. We are still here and nobody is trying to move us out. That's good because tomorrow this empty field is going to be dotted with a lot of vintage trailers, and on Friday we expect to have 83 parked all over the place. Saratoga Springs State Park may never be the same.