We can't seem to escape the rain, even when the sun is shining. A big thunderstorm showed up around dinnertime, and it never really stopped. I had hoped for a letup overnight so that we could roll up a dry awning, but we awoke to a steady drizzle. Packing up and hitching up in the rain is one of the things I don't miss when we are out west. Everything takes longer, and there's lots of muck to deal with: mud on the electric cord, gravel sticking to my shoes, tree leaves stuck to the awning, and cold wet hands until the job is done.
With the awning rolled up wet, I have to deploy it here in our courtesy parking spot in Saratoga Springs NY. It will probably get even wetter as a result of morning dew, but I am hoping for sunshine in the morning to dry it off. Rolling up the awning when wet is no problem if you unroll it later and allow it to dry. If you leave it rolled up, trapped moisture and organic debris (leaves, pollen, bird droppings, bugs, etc) can allow mildew growth. I tried to clean off all the gunk as I rolled it up this afternoon, but there's always something.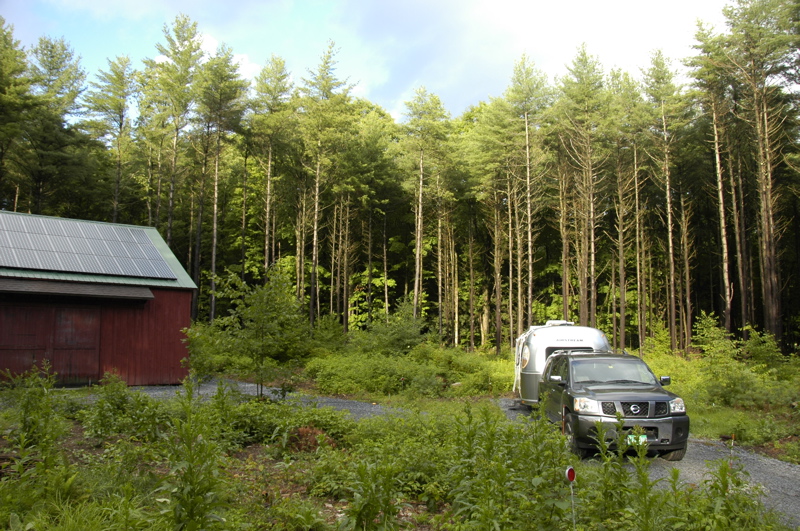 We're taking an easy stop tonight, at the home of Bruce and Virginie, just a few miles from the site of the Vintage Trailer Jam. Bruce reports that here it has hardly rained, which is incredible. Some sort of magic barrier has divided the frequent rain showers to go around Saratoga Springs the past few weeks. But it's not dry: we got a sun-shower when we arrived here, and at sunset the forest filled with fog.
We haven't run the water heater in weeks. This evening it refused to ignite, which is a problem we have had in the past when camping in the east in damp conditions. Something about it doesn't like moisture. Around Christmas 2006 in St George Island FL we discovered that half an hour of sunshine or a hair dryer would bring the water heater back to life. So we borrowed a hair dryer from Virginie and in just a couple of minutes the water heater was fine. I will get a hot shower in the morning.
It was hard to say goodbye to our family today, but we're going to have souvenirs of our driveway visit in Vermont for weeks. The spiders around there were innumerable. Everywhere I looked I found a spider or three, and often they had laid egg sacs too. They were on everything, and in every crevice. I cleared them out of the water heater, the wheel well, even the foam "pool noodle" we put on the awning arm. Such fun. We're living in an insectarium.

The photo above is a flashback to the Vintage Trailer Jam. People are still sending me photos from the event, which is fun. This photo just came from my mother via email this evening. Since we are parked in the same town, it felt appropriate to run in today's blog.
This Saratoga Springs stop is just an overnight. We're going to start roaming central New York tomorrow. For the next week we are going to meander slowly toward Jackson Center OH, home of Airstream. We've got a service appointment for the 11th. Until then our primary job is to visit as many friends as we can along the way. It spreads out the driving and the fuel cost, and our indirect route means we'll see a lot of the countryside. That's a good deal all the way around.