In downtown Saratoga Springs is a bakery called Mrs London's, where we met our courtesy parking hosts Bruce and Virginie this morning. We hadn't seen much of our hosts last night, due to prior obligations of theirs. So we had pastry and coffee (chai for me) in the morning, by the busy main street under the shop's awning and talked about everything. It seemed an ideal day for that sort of thing, bright with sunshine and light on responsibility, even though it was Monday.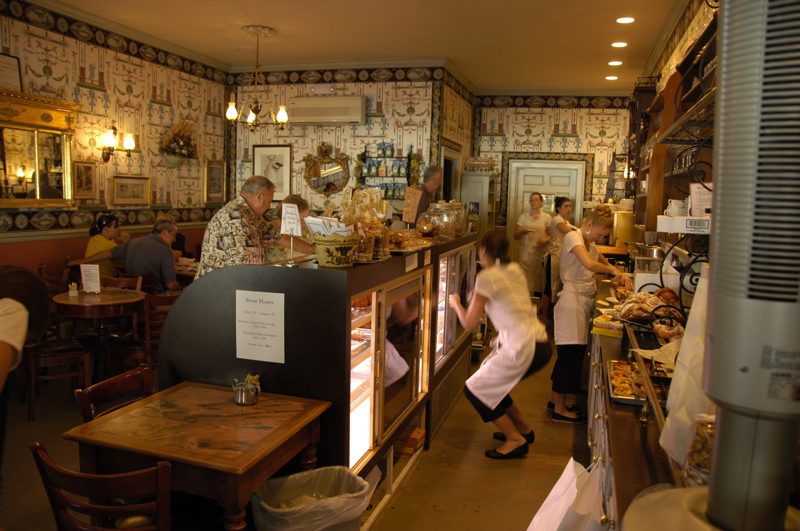 This set a nice tone for the day, and since our drive was only three hours total, we were in no hurry. Eleanor wanted to stop at the Saratoga spring in the state park to refill two gallon jugs, and she also requested a stop at Roma's Italian market on Washington Street for some pistachio nougat. We did all this with our hosts' spare car, leaving the Nissan and Airstream hitched up and ready to go.
Once we got on the road, our next stop was about 60 miles west, in the small town of Herkimer NY, where "diamonds" (actually quartz crystals) can be found amongst the gray rock in open pits. You pay a fee and they give you a hammer, and then you sit in the sun and hack away at rocks in the hope of discovering a little piece of quartz. It's kind of like being a convict on a chain gang, except you pay for the privilege and you get to keep the little rocks.
Apparently the Travel Channel did a bit on the mines, and that spurred their popularity. Quite a few people were in the mine banging away at rocks when we visited, including a lot of families. I personally could not get the rock fever, and after an hour or so of sweating (in a humid 78 degrees, with passing rain showers and occasional sun), I chose to hang out in the Airstream while E & E searched for fabulous little crystals. They came back a couple of hours later with a plastic baggie holding a lot of tiny samples, some of which will become part of Emma's magic wand.
Our final stop for the day was one I've been anticipating for a long time. Randy Miller, son of the legendary Airstream photographer Ardean Miller (see Airstream Life, Winter 2007), invited us to his home in Cazenovia NY. It was an invitation I could not pass up, even before I saw the pictures of the place. We are parked on a farm high atop a hill in central New York, where all around are spectacular views of the surrounding countryside.

Getting to the back yard, where we are parked, was a challenge. At one point we were basically off-roading down a steep embankment, and the last two feet of our 30-foot Airstream did not like it. The bumper I damaged last January on the way to Quartzsite was particularly insulted by the terrain. Now it is bent in the middle. I had to do a "field repair" literally in the middle of a field, which involved removing the bumper, bending some metal, and whacking it back into place. It will hold, but there is no question that further service will be needed at Jackson Center.
Now that we are parked, I'm not inclined to go anywhere. We've got a spot of honor next to the fire pit and tremendous hospitality. Randy has all the toys any overgrown kid might want, and his daughter, son-in-law, and grandkids are here visiting (as well as their friends and more children), so the late afternoon was spent playing with a remote-controlled airplane (which I crashed spectacularly into a tree), dogs, children, and a potato-shooting gun.

Randy also arranged that we would be overflown by a Piper J-3 Cub in the early evening. The neighbor/pilot buzzed us with great finesse and even demonstrated a little aerobatic maneuvering. Then it was time for dinner, which was grilled outside for everyone. The kids made S'mores over the fire and told ghost stories in the dark, and I didn't get a single mosquito bite. All in all, it has been one of the better Mondays I can recall. We'll stay a couple of nights for sure …