I suppose if I must have a cold while trying to cross a broad swath of the USA, Kansas is a good place to have it. That's because I can never equalize my ears when I have a cold. Nothing works for this problem, including medications and various techniques used by divers. So typically a cold means I am restricted to one elevation until it clears up, and absolutely no flying.
Fortunately, the drive east to west across Kansas is a gentle rise most of the way. We pulled out this morning from our quiet and scenic spot by the lake near Baldwin City at about 1,600 feet elevation, and eventually ended up here in Goodland at 3,700 feet. That climb — if you can call it a climb — was spread over about 300 miles, or about 3.6 feet elevation gain per mile. Nice and gradual, and easy on the three people in the car who have colds at the moment.
Yes, now there are three. Emma started having symptoms last night. Only Eleanor has so far escaped the viral wrath from Florida. After two long days in the car I thought Emma would appreciate a short day today, with lots of breaks to run around, but when she got the cold we changed the plan. There's nothing like a virus to take the edge off a kid. She was happy to spend most of the time sitting in the car playing with her toys, and I was happy to have Brett as chauffeur for most of the day.
Goodland is a nice place to stop along I-70. We've been here before. The town is big enough to have good services, and small enough that there's not much traffic. Since we have only 200 miles or so before Denver, we're going to spend sometime here on Sunday to explore the various sights in town.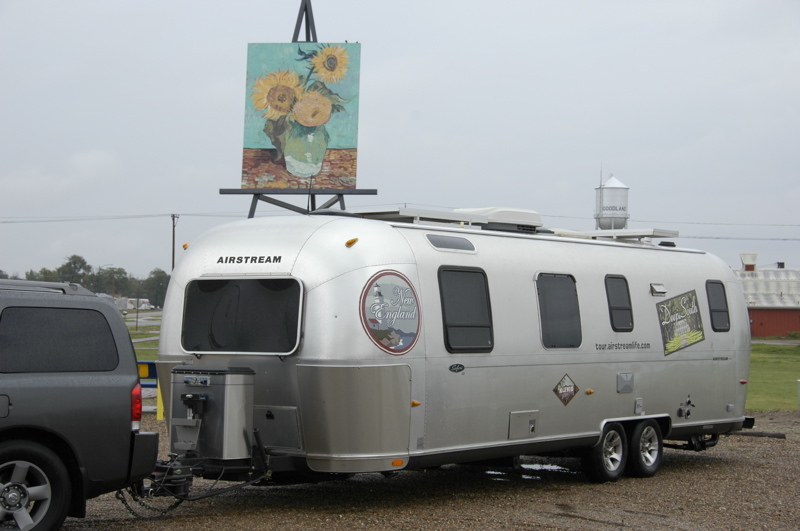 Tourist attraction: The giant Van Gogh reproduction in Goodland KS
Maintenance report: I think there is something wrong with the auto-leveling system on the Armada. It has a factory-installed airbag suspension in the rear, but it appears to have a slow leak. We'll check that in Denver at a Nissan dealer.
Solar report: We've been running on battery since we left Jackson Center, with all three fans running all night and lots of light and water pump usage. We haven't been frugal with our power at all because there has been abundant sunshine to recharge the batteries. This afternoon the batteries were at 81%, not bad. It's summertime and the livin' is easy … on solar power.