Our big trip for today was out to Wheat Ridge, CO, where Timeless Travel Trailers is based. They're a relatively new advertiser in Airstream Life magazine, and Brett and I wanted to check out the operation. We'd heard very good things about them from the Airstream folks in Jackson Center.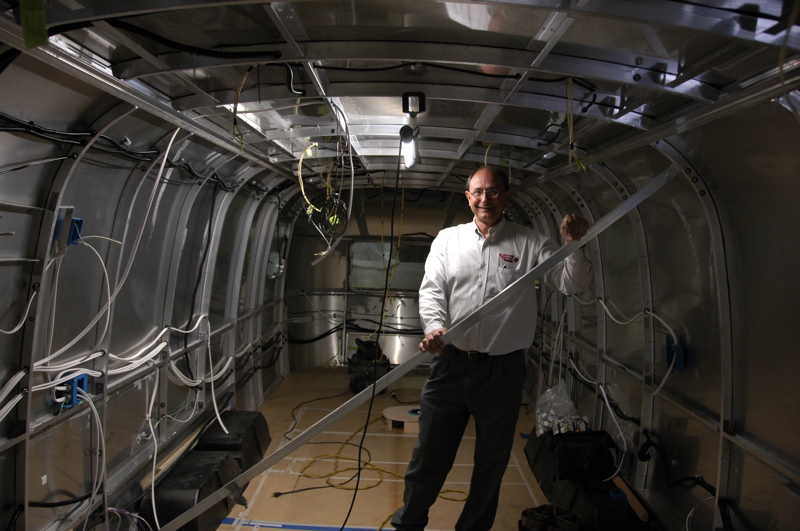 We were extremely impressed. They've got 30 people working in two buildings, cranking out two completed trailer projects each month. The staff includes two full-time designers, an estimator, and a couple dozen craftsmen in various specialty areas. The head of the operation, Brett Hall, gave us a tour of the facility and then sat down with us over lunch to talk about the industry.
TTT is on the way to becoming the official builder of custom Airstreams. Right now, Airstream doesn't normally sell trailer shells, for lots of reasons. TTT has been allowed to buy a few direct from the factory for customization, and if all goes well they'll formalize the relationship with Airstream and be the only shop in the country allowed to build custom Airstreams from new shells. The photo at left shows a new 31 foot Airstream shell in which TTT staff have begun to run wiring for a client.
TTT also rebuilds vintage and late model Airstreams for customers. There were about six projects in the shop when we arrived, each one being renovated at a fantastic pace. The 34-footer in the photo at right as been in the shop for five weeks and will be done in one more week. The customizations run from about $50,000 up, with many projects exceeding $100k.
I love visiting my advertising clients because they all have interesting stories to tell, and interesting businesses. In the past week we've been to see Airstream, Bill Thomas Camper Sales, and Timeless Travel Trailers. All of them have been completely different, but share a common excitement for the product and the lifestyle it enables.
This evening's entertainment was bowling downtown at Lucky Strike Lanes with Brett G's sister, who lives in Denver. Emma loves bowling, and it seems to be something everyone can enjoy, even the lousy players. (Tonight I was the lousy player for some reason.)
Brett G is spending the next couple of nights at his sister's house, so our Airstream is a bit emptier than it has been lately. We're gearing up to get back into our usual 3-person travel mode. I've finally made plans for our weekend (Colorado Springs), and we have a tentative plan for the next couple of weeks. Thanks to everyone who suggested their favorite national park in Utah — we plan to take that advice soon.