I mentioned in a previous post a couple of weeks ago in Ohio that we had a valve stem go bad on us suddenly. We were driving up I-270 in Columbus in moderately heavy traffic when suddenly the Doran 360RV tire pressure monitor started beeping.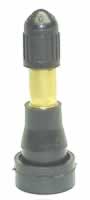 At the time I was curious why a valve stem would fail, and so I later inspected the remaining stems. It turns out that they dry-rot over time, and it really is good advice to replace them when you buy new tires. But of all the tire shops we have been forced to visit over the years, nobody has ever recommended new valve stems to us.
The only shop to replace a valve stem, to my knowledge, was the little local place in North Carolina where we had our most recent flat repaired. Instead of the all-rubber stems that came with our trailer, which are apparently best for low-pressure use, this shop put in a high-pressure valve stem (pictured at right). It's more durable and flexes less. It's also more appropriate for tires that run at 60-65 psi, like ours do. That was Stem #1.
When the valve stem failed in Columbus, I asked Airstream's service center to replace it with a "metal" one. They did, but they took me literally and installed an all-metal stem. I should have asked for a "high pressure" stem instead. The metal stem is OK but it is a little longer than the others and that makes checking the tire pressure harder than it should be. That was Stem #2.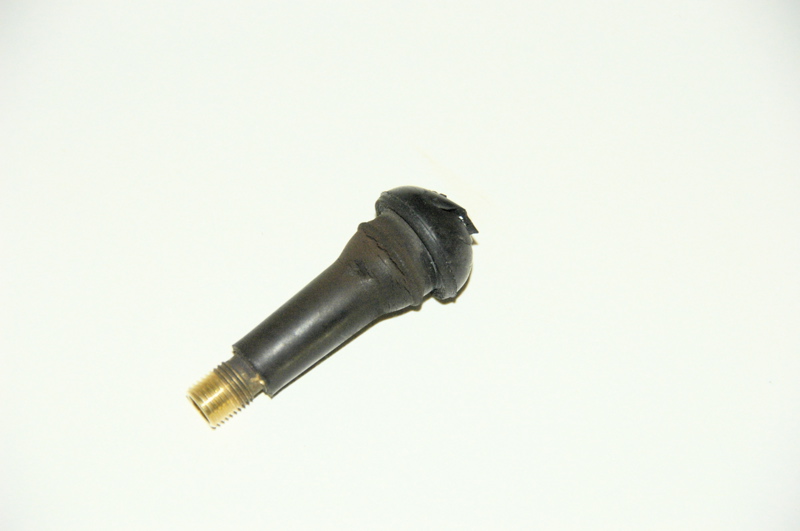 On the drive last week from Goodland KS to Aurora CO on I-70, the Doran started to beep again. Our left rear tire was running at 53 lbs. We aired it up at a truck stop and it seemed to be holding pressure, but I noticed that another tire's valve stem looked very bad. That's a picture of it at left. You can click on it to make it larger. Notice the extensive cracking around the base.
Now I was starting to get the picture. After some period of total neglect, our valve stems were gradually failing one by one. The shop in North Carolina noticed it and replaced one in May, then a second failed in Columbus in August, and now here was a third one needing replacement.
When we left Cherry Creek State Park yesterday, the Doran once again warned me of a low pressure tire. The same tire that had been low on I-70 was low again. It had lost 14 psi of pressure in five days. Clearly, we had a leak. I aired it up with my little 12-volt compressor and we drove down to Castle Rock (midway between Denver and Colorado Springs) and dropped in on a tire shop to have it checked. (Turned out to be a staple in the tire, fortunately patchable.) For the record, that's our fourth incident of road debris penetrating a tire this year. While we were there, I asked them to replace the valve stem pictured above — #3.
The fourth one looks good for now — it may have been replaced in the past year by someone, I don't know. But I'm going to replace it with a new high-pressure stem too, just to be sure. Should have done it yesterday, but for some reason the idea escaped me until we were departing.
The technician strongly recommended that we use nothing but "high pressure" valve stems in the future, and that we replace them every time we wear out the tires. Only problem with that is that we never seem to wear out tires anymore — they all get killed by road debris before they can wear out. So I'll just make a point of having the stems replaced annually as we continue our Tour of America's Tire Shops.