Our minor flooding problem has been dealt with. Even though the floor seemed dry by Thursday night, we left the fans running all night just to be sure. Friday morning we got to replacing the floor while Emma was still sleeping. I worked on the tiles in the front storage compartment while Eleanor did the tricky curved sections in the bedroom closet.
It was blazing hot outside with the sun on me, and not too comfortable for either of us, since we had to squinch ourselves into some spaces not normally occupied by people. At one point someone who walked by to talk, but all she could see of me was my lower half hanging out of the storage compartment, draped partially over the hitch and propane bottle shelf. It got even less comfortable when I had to disconnect the power and the batteries.
Ah, but it was worth it. The new floor looks great. Because the carpet was taller than the new floor, it left a gap in places, but we sealed the gaps with flexible vinyl bathtub caulking bead.

Dry, clean, and ready for storage!
Note the new Optimas in the photo above also. The other two are in the regular battery compartment. One thing I need to do is get some sort of cover to protect the terminals. Right now I have to take some care to ensure that nothing metallic in the storage compartment is near the batteries, or it might short the batteries.

Almost done. Still needs edging.
We were lucky to be at Mystic Springs when this happened. Many campgrounds would have prohibited us from working on our trailer in the park. We also were lucky that people were willing to keep Emma occupied, and lend us fans. And it was a nice break that the forecasted rain never came, so we could dry things out and get the new floor in place.
By 11:30, we managed to complete the job, take quick showers, get Emma dressed, and be ready to join the rally group for a catfish lunch in town. That was a nice reward after sweating in the sun for hours. Mmmmm"¦. Southern fried catfish. Love it. We went through a couple of pitchers of iced tea, too.
Hugh Riddenour and Vince Saltaformaggio joined us for lunch at our table. Hugh's daughter follows our blog, I'm told (Hi!). Vince is the guy with the 1959 Airstream Tradewind that he restored last year. It's a beauty. Vince is a fun guy to visit with, because he is what I regard as the quintessential New Orleanian: jovial, chatty, loves to eat, funny, and full of little vices.
After lunch it really got warm, probably mid-80s, so we ran the two Fantastic Vents to see how the trailer did. It wasn't bad except in the front bedroom where we still have an unpowered vent. That confirms it "" I'm going to install a third Fantastic Vent in the bedroom when we get down to Tampa. We don't like to shut up the trailer to run the A/C unless it's scorchingly hot, so we rely on the Fantastic Vents to keep things comfortable most of the time.
Eleanor and Emma took the opportunity to make some homemade lemonade "¦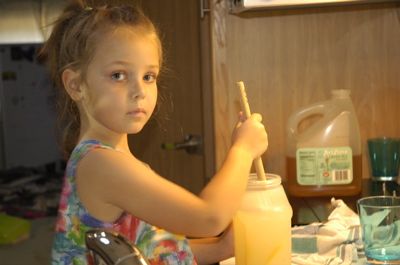 "¦ and later Emma got to work with her sidewalk chalk by our neighbor's trailer. (I'll have to take a picture of her artwork today.)
After dinner in the clubhouse, I was invited to do a presentation on our trip, so I did the same slideshow that I'd done in NTAC. Everyone was still awake after 160 slides, so I guess I did OK. They even laughed in the right places.
By then it was 9 pm and we were all a bit worn down. Rally days are like that. We are always so busy talking, taking pictures, showing the trailer (people are always interested since they've usually never seen a two-bedroom Airstream before, and certainly not one with three people living full-time in it), and meeting new people, that each day flies by.