Our plan for the day was to explore a representative sample of Mesa Verde, not everything. A park this size can't be seen in one day, in fact it probably can't all be seen in a week if you count in all the hiking trails. For our first visit to a big park we like to sample and browse, and in the process learn what we'll want to come back to see next time.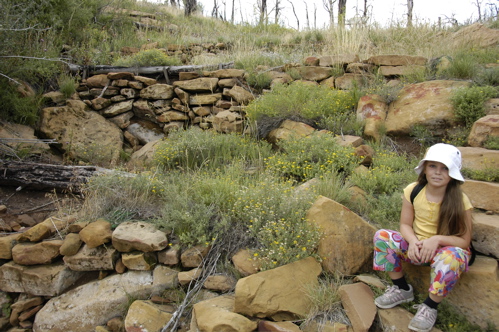 I'm a big advocate of the idea of hiking a park as much as possible. I realize that's not possible for everyone, but right now it works for us and so we always try to check out the lesser-known corners by making the effort to hike. Our first hike was an easy one, the Farming Terrace Trail near Cedar Tree Tower, about 0.5 miles. The Ancestral Puebloans who lived here during the time of cliff dwellings were farmers. They grew squash and other vegetables, including a very small variety of corn. Since rainwater runs off the mesas very quickly, they created small terraces to slow the water enough to irrigate their crops. This trail brings you right through a series of terraces.
Three of the most popular cliff dwellings are only accessible by guided tour ($3 per person). We'd seen Long House yesterday, so today we had tickets for Cliff Palace and Balcony House. As it turned out, this was a great order to see them in. Long House is a spectacular first dwelling to tour (150 rooms), and then Cliff Palace is even more elaborate (151 rooms), so you can easily see the difference.
Visiting these dwellings requires climbing ladders and going up and down irregular stairs. The Park Service warns people about the physical challenges of these places, and in the pre-tour briefing the rangers all mention that, should you have a medical emergency, help is three hours away. In reality they aren't particularly strenuous to anyone in good health, but you can see why the rangers prefer to scare away anyone who might have a problem: They are the ones who will have to carry the stretcher up and out of the canyon.
Something special was happening at Cliff Palace when the Puebloans lived here. It has many more kivas (round ceremonial rooms built into the ground), plastered walls, excellent masonry work, and elaborate decorations. It's anyone's guess as to what made this particular so much more elaborate than all the others.
Balcony House made a fantastic final tour. Fair warning: this tour is not for anyone with a fear of heights or claustrophobia. It is considerably more psychologically challenging than the other two. The tour starts with a pair of 30-foot ladders mounted on the cliff above a very very long drop. "Don't look down — don't look up!" warns the ranger. "Just look straight ahead and keep three points of contact on the ladder at all times." I didn't look down, but I did look up and regretted it.
Climbing the ladder at Balcony House — click for larger
Once you're inside the Balcony House, the view is stunning and you can see why it has that name. You also might wonder how the heck you're going to get out of there. Back down that ladder? No, it's even more interesting. You crawl through a tunnel that is 18″ high, and twelve feet long. (In the middle it opens up enough to crouch, but that's all.) Emma made it look easy. The rest of us took off our packs and pushed them ahead of us.
Emma goes in the entrance; a tourist comes out the (larger) exit.
Then, you climb up a sheer rock face with chain-link handrails. Again, looking down is not recommended. It's a looooong way to the bottom of the canyon.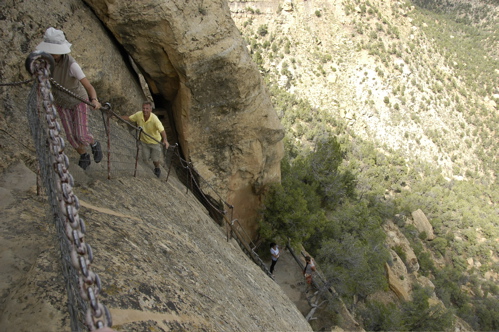 Last challenge of Balcony House — click for larger view
If climbing ladders isn't your thing, you can still see a lot of cliff dwelling sites from your car, or on a hike. Many are marked from overlooks, and a few others are just surprises. Just by keeping my eyes open during drives and hikes, I managed to spot and photograph more than a dozen cliff dwellings. The Spruce Tree House is probably the best self-guided tour, and it's only a few hundred feet via paved walkway from the Chapin Mesa Museum parking lot.
At Spruce Tree House you can actually get in a restored kiva. Kivas had roofs made of wood, but the wood has long since rotted away, so during the guided tours you see right into the kiva, like looking at a foundation with no house on it. But getting into the kiva at Spruce Tree gives you a sense of the mysterious, and you can imagine the rituals going on inside while the ceremonial fire burned.
Kiva without roof; inside a kiva
From Spruce Tree house there is a very nice hike on the Petroglyph Point Trail. The signs claim that the total elevation gain is only 174 feet, but that doesn't include the many ups and downs in the trail. In reality, I would estimate the total climb at several hundred feet — all at about 7500 feet elevation, in arid and often hot conditions. Bring a lot of water. The reward is not only some superb petroglyphs but an unnamed cliff dwelling along the trail. If you want to just see the petroglyphs with minimal effort, do the trail backwards (it's a 2.8 mile loop), and turn around when you reach the petroglyphs. The second half of the trail is on flat mesa, very easy.
All this plus a short visit to the Chapin Museum accounted for a full day. Our last stop was for fuel, but as I expected the concessionaire-run gas station at Morefield Campground was outrageous. Unleaded: $4.71 per gallon. Seven miles away in Cortez, gas is $3.83. This is typical. When the concessionaires run things, there are more services in the parks but they always cost an arm and a leg. This also accounts for the campsites costing $24.05 instead of $14. I bought two gallons of gas just so we'd have a reserve to drive to Cortez for a proper refill.
Our stop today is Cortez, CO, to top off our reserves. We needed an oil change, a tank of propane, gas, groceries, a fridge defrost, and a chance to catch up on email & the blog before heading out again. The next four days of travel (at least) will involve places in Utah where the cell phone won't work, Internet is just a concept, groceries are scarce, and prices for everything are likely to be high. I can't say when I'll get a chance to update the blog, but I will keep writing entries as we travel, and upload them as soon as possible.