It's both a privilege and a challenge to be "professional campers." We travel for fun, sure, but in this blog I have tried not to gloss over the many things that go wrong, and the difficulty of balancing the work and play. Today was a typical example of how we usually get a little bit of both.

We took a look forward in the calendar and decided that it was time to leave Hovenweep after only two nights. We'd seen 80% of the publicly-accessible ancient Puebloan ruins, hiked most of the trails, and Emma had completed her Junior Ranger program. But also we saw time beginning to run short on us. We'd like to complete our loop of Utah national parks before the end of the month.
One reason to wrap up this month is that we are considering going to the Albuquerque Balloon Festival, October 4-12. We had reservations for last year, but abandoned them when we decided to go to Banff and the Pacific Northwest instead. This may be our last chance to go, if we find ourselves bound by school schedules in the years to come.
Another reason is weather. Right now it is ideal weather at the upper elevations, but in October things will get distinctly fall-like. The mid-70 to mid-80 degree days we've been having are ideal, and the nights have been warm enough that we have only needed heat on a few occasions.
So we drove out of Hovenweep this morning, zig-zagging along county roads to eventually find ourselves at Natural Bridges National Monument about 75 miles drive to the northwest. The Hovenweep area is a bit of a Bermuda triangle for GPS units. Garminita very much wanted us to take some dirt trails across the desert, which would have been fun had we not been towing the trailer. We had to disregard the GPS for about fifteen miles and use the old reliable paper map instead.
Not long after we settled our differences with Garminita, the trailer brakes stopped working. It was the usual scenario, one I've started to become rather comfortable with since it has now happened three times. All was well, and then when coming to a T-intersection I noticed that I suddenly wasn't getting the brake response I expected. I pulled the manual override on the Prodigy brake controller and sure enough, no trailer brakes.
Once again the problem was a dirty ground wire on the trailer. We had last cleaned the wire in May, in the Florida panhandle, but I suppose two weeks of salt air at the Outer Banks of North Carolina and two months of intense humidity in Vermont had their effect. This time we really scrubbed both the ground wire and all the points it contacts, first with a screwdriver tip to scrape off some accumulated varnish, then copper wool, then Emery cloth (fine sandpaper). Problem solved in about five minutes.
I can only plead distraction for the next mistake. Fuel is exceptionally rare out here, and literally our only shot at it was in the town of Blanding. I mistakenly listened to Garminita and took the turn onto Rt 95 toward Natural Bridges, forgetting that we needed to overshoot the turn and go into Blanding for fuel. By the time I remembered, we had passed through two canyons with 8% grades and were about seven miles away.
At that point we had a half tank, but that means nothing out here. I had a choice of working back to Blanding (easily a 20 minute drive each way, with those darned canyons), or proceeding north toward Natural Bridges and hoping for fuel in that direction. Garminita was no help: her database of fuel stations is woefully incomplete. She claimed there was no fuel for at least 90 miles going north.
I decided to proceed to Natural Bridges (25 miles further) and make inquiries there. If there really was no fuel heading north, I'd unhitch the trailer in the campground and return to Blanding alone for a refuel while E&E did something else. But fortunately the rangers reported an automated fuel station in the settlement of Hite, about 50 miles further up the road. We have plenty of fuel to get to Hite.
I have to remember the "Rule of Fuel" here: Always stop for a refill whenever you can, regardless of price. There are no major towns in this part of Utah. A 28-gallon tank such as the Armada has, is sufficient to tow through this area if it's kept more than half full. Seventy miles between gas stations is not unusual. Years ago, when we towed our Caravel with a Honda Pilot, I quickly discovered that a 19 gallon fuel tank is a joke when towing, even in the east.
With the fuel worry lessened, we faced another challenge. The campground at Natural Bridges is only 13 sites and they are all quite small. It's really best for tents and very short motorhomes. Signs say that maximum allowable length is 26 feet combined. When I told the rangers we were towing a 30 foot trailer, they kind of grimaced but didn't say anything. I told them we were accustomed to squeezing into tight spots. (We are, after all, professionals.)
Well, we are, but I have to admit that this is one of the tightest campgrounds we've camped in. Our combined length is about 52 feet "" double the suggested limit "" and that meant careful navigation through the loops leading to site #9, where we backed in and then parked the Armada alongside. This is probably the hardest campground for us to fit into since Jedediah Smith Redwoods State Park in northern California.
I wouldn't recommend trying this without a lot of prior experience. The alternative campground is seven miles away on a free BLM site, so if you come to Natural Bridges and are oversized, stay there instead. Also, the Natural Bridges campground does not take reservations and it is so small that it fills up quickly.
The big challenge of camping in this region is managing our resources. Other than in the town of Blanding, there are no campgrounds, no dump stations, and very little water. Hovenweep had sulphur-tasting water but nothing else. Natural Bridges' campground doesn't even have water (and again, no dump station). Water is obtainable at the Visitor Center, and a sign there says the limit is five gallons per day. We picked up three gallons today. Two and a half gallons went into the water tank and the rest was set aside for cooking.
So we have been watching our water consumption extremely carefully. We won't get a chance to dump the tanks until we get to Capitol Reef (or the nearby town of Torrey). Hiking in the sun, with lots of sunscreen on, demands a shower at the end of the day, which makes the water-management job much harder.
The only resource which hasn't been a challenge is electric power. In between hikes I've been writing up notes and editing articles for the Winter issue of the magazine on the laptop, and Eleanor has been using her laptop as well. Our solar panels have kept us well supplied. At this writing our batteries are 94% full, and our last plug-in was Tuesday morning. I love the desert sun.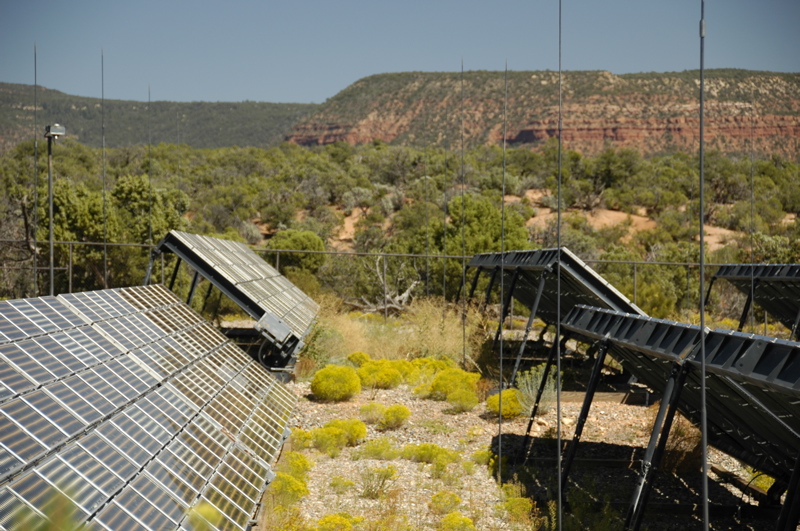 In fact, the sun is so abundant here that Natural Bridges was chosen as a demonstration site for solar power. The Visitor Center is powered by the sun, using two arrays of panels across the street. A short trail leads down to the 50,000 watt solar arrays, encouraging visitors to see.

The big draw, of course, is the three natural bridges formed in the canyon below by water erosion. Each one has an overlook point from the 9-mile loop road, so you can see them all without hiking, and each has a hike down into the canyon to get a closer view.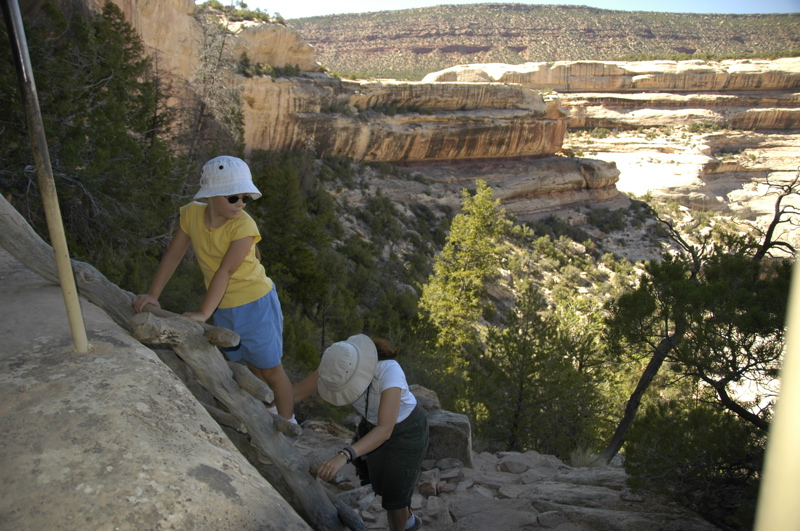 We did two bridge hikes and one other hike to see another set of cliff dwellings, totaling only about 1.5 miles. Emma has a sore ankle from a minor twist a few days ago, and we're trying to give her a break. We won't do any hiking tomorrow unless she's entirely recovered.
Tonight there is an evening program involving a telescope. This area has some of the darkest night skies to be found in the United States, and the skies have been crystal clear each night since we got to Hovenweep. There, we stood outside the trailer at night and looked up to the most brilliant display of stars I have ever seen. The Milky Way was a unbelievable flood of stars, and Jupiter was glowing like a streetlamp. So if we can manage to stay awake until 9 p.m. tonight, the evening program should be pretty good.
That pretty much covers what this little park has to offer, so tomorrow, after picking up Emma's Junior Ranger badge, we'll move on to Capitol Reef.