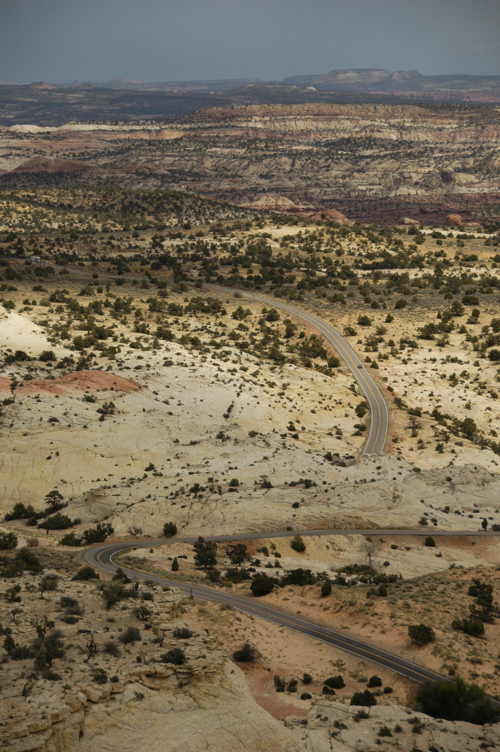 Our goal today was to drive 118 miles from Capitol Reef to Bryce Canyon, via Utah's semi-famous Route 12. This route goes through parts of the Dixie National Forest and the northern edge of Grand Staircase-Escalante National Monument (BLM). We'd been told it was an eye-popping drive, but unfortunately the weather was uncooperative and a lot of the views from 9000 feet and above were obscured by passing rainshowers and fog.
Coming down past Boulder, the view improved. We had considered stopping at the Calf Creek BLM campground, but passed it by with a note to perhaps visit it on another trip. It's located down in an absolutely beautiful canyon, not far from the spot we were overlooking in the photo at left.
I must be getting used to driving out here on the Colorado Plateau. We rolled up and down grades ranging from 8% to (briefly) 14%, climbed above 9000 feet on curvy roads with no guardrails, in and out of rainshowers, and my reaction to most of it was "ho hum…" Not that it wasn't beautiful, but the adrenaline rush that usually accompanies towing under such conditions was distinctly muted. Mostly I toodled along, one hand on the wheel, one hand on the transmission stick, thinking about when we should stop for lunch.
Which eventually we did, at the visitor center in Escalante. While we were parked there, we ran into Rick, another Airstream full-timer traveler who has been out on the road for about three months so far. He's got a sweet 1976 Airstream 30 footer that he refurbished and customized. We hung out for a couple of hours, swapping travel notes, and may meet up again later this winter. Rick's blog is a bit out of date but he's planning to get caught up on his latest travels.
With all the puttering, we didn't get to Bryce until about 5 p.m. The national park's campgrounds were mostly full, and the few remaining spaces were either too short or very unlevel. The entire North campground seems to have been built on a hill. Also, the site were entirely shaded, which would give us no useful solar power. We decided to go upscale and pay for Ruby's campground just outside the park entrance.
This is a big luxury for us. We've been camping without hookups of any type for a week, which has allowed us to stay close to the parks we've been visiting. Upgrading to a commercial campground is like splurging on a five-star hotel. We're getting full hookups, wifi, a laundry, two swimming pools, two restaurants, and my phone works too. We'll catch up on laundry, work, email, phone messages — all those annoyances of "real life" –and work in a few hikes in Bryce too.